Alum Judge Karen Specie
Full-Width Featured Image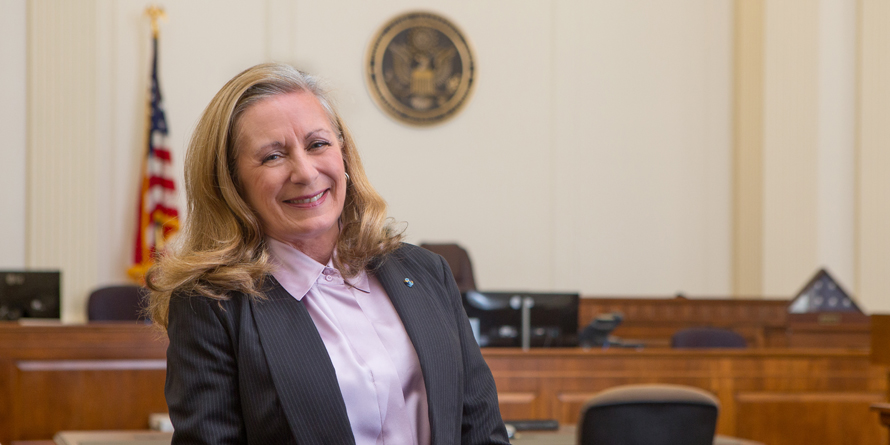 Chief Bankruptcy Judge Karen Specie's specialization in bankruptcy law happened by chance. Upon graduating from law school, Judge Specie knew she wanted to broaden her horizons and move outside of Florida. She took a friend's suggestion to visit cities in which she might like to live and borrowed money from her parents to travel to Washington, D.C., the San Francisco area, New York City, Atlanta and Denver.
Judge Specie selected New York City, packed her belongings, printed resumes and headed north. She researched firms specializing in commercial law at the NYU College of Law library and visited firms for three-and-a-half weeks before obtaining a job.
"The very first case the firm handed me to handle on my own was a bankruptcy case," recalled the 1978 College of Law graduate.
"Bankruptcy has been a fantastic career because you get to learn about and practice in cases involving virtually every type of business imaginable, and a huge variety of issues involving individuals as well; all under the umbrella of the federal bankruptcy code and bankruptcy rules. No matter where you go in the nation, the local and state laws can be different, but you're going to be practicing under the same set of rules and bankruptcy code that you are used to."
Judge Specie's career has included law practice at firms in Tampa, Gainesville and Jacksonville, practicing on her own and serving as a Chapter 7 bankruptcy trustee. Several years before becoming a judge she took a leave from practice to fight cancer. The nine-year breast cancer survivor's decision to pursue a judgeship was not made lightly. She debated about applying for a federal bankruptcy seat for approximately 15 years before she felt the time was right.
"I have represented just about any party you can name that ever becomes involved in bankruptcy cases and I felt that my career had prepared me for being able to do this job."
Judge Specie, who was appointed to the bench on her first attempt, submitted her application in June of 2011 and went through a "challenging" interview process before her appointment to the bench in July of 2012. "Bankruptcy judges are appointed for 14-year terms and we are selected by the circuit court of appeals for our region, so in this case the Eleventh Circuit Court of Appeals. It is a very rigorous vetting of people from around the country with experience and resumes that make them eligible for the job. There are a total of approximately 350 bankruptcy judges nationwide, so it is very much a privilege and an honor to have been selected."
Because many of the people in bankruptcy proceedings are under extreme stress, Judge Specie strives to be compassionate.
"I try to treat everyone with respect and dignity. Even though bankruptcy judges are faced with making some really difficult rulings, at least if I take the time to explain my ruling, especially when I'm dealing with someone who is not represented by an attorney, at least they know that someone is listening to them and is respecting them as a human being. And sometimes that is the most I can do."
As the only bankruptcy judge for the Northern District of Florida, Judge Specie presides over hearings in all four of the district's divisions. She is based in Tallahassee, but travels to the Pensacola, Panama City and Gainesville courthouses frequently. With more than 4,000 pending cases in the district, Judge Specie must run an efficient court.She typically presides over 20-50 cases per hearing day. Because she also serves as the district's chief bankruptcy judge, Judge Specie is responsible for all of the court's administrative decisions.
"One of my primary goals is to be a good leader. I see my role to help formulate a vision for our future, and then to do as much as possible to implement that vision," said Judge Specie, who is a Fellow in the American College of Bankruptcy and has held various Florida Bar leadership positions throughout her career. "I could not do my job, or be successful, without the wonderful staff I have, not only in chambers but in the clerk's office. Our court staff is very capable and hard working. Our clerk's office staff go the extra mile to serve the public; especially the lawyers and pro se litigants who come to our court."
Judge Specie also acknowledges that her success would not have been possible without support from her family. "My husband and I have worked as a true team for many, many years, sharing child care, grocery shopping, cooking, homework, PTA and other school related activities, budgeting, and all other household duties. My husband and three children have been incredibly patient over the years with my taking business calls at all hours and on vacation, staying home to try a case while they went on vacation without me, answering e-mails and going to meetings while they might prefer me being more engaged. They are very proud of me, and I of them. I am grateful for their unselfish support over the many years of my professional career."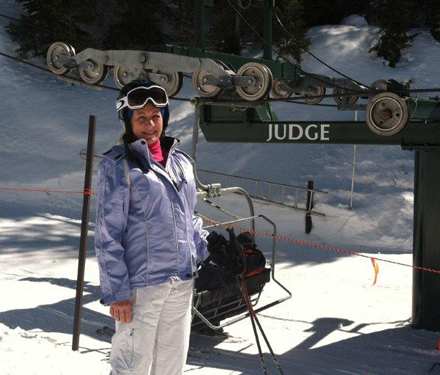 The Species are thankful that their three adult children are doing very well. "Our eldest son graduated college four years ago and is working in a career he loves; he recently married his soulmate and they are happily building a life together," said Judge Specie. "Our youngest son has excelled in a rigorous Doctor of Physical Therapy program and is looking forward to a career in that field. Our daughter is a college junior making superior grades while staying active with her sorority and volunteering with various philanthropic organizations."
Judge Specie's husband of 33 years, Gary, is a CCIM real estate broker who owns his own business in Gainesville, where the couple met as undergraduates at the University of Florida. Although relocation to Tallahassee may be in their future, the outdoor-loving pair still resides near Gainesville with their two dogs and two horses. Judge Specie cannot remember a time when she did not love horses. She even mucked out stalls when she was a law student to pay for weekly riding lessons.
Judge Specie attributes her successes in her career, and in life in general, to her faith, which she says is central to her and her husband's lives. "I pray daily for wisdom, patience and insight, especially each time I am about to take the bench or make a difficult ruling."
Now that she commutes to Tallahassee for work, Judge Specie no longer serves as an adjunct professor at the UF law school – a cherished position she held for 4 years. Her primary focus now is her seat on the bench, although she would love to teach again in future.
"I want to be the best bankruptcy judge I can possibly be," said Judge Specie. "Even though I practiced law for about thirty years before taking the bench, I'm still constantly learning: from other judges, from litigants and from lawyers in the courtroom."
As printed in the fall 2014 issue of Florida State Law magazine.