Kimberly Holladay ('93)
Knows Business from the Inside-Out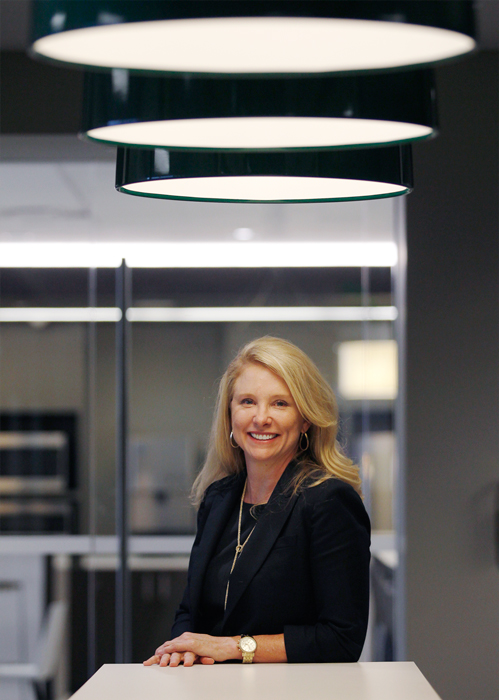 Five-year-old Kimberly Holladay was going to be a veterinarian. That was her heart's desire and she carried it with her into early adult­hood. It was not until her second year of studies at the University of West Florida that Holladay reluctantly let go of her childhood plan.
"We had to watch surgery and I realized very quickly that I don't do well with blood," recalled Holladay. "My professor said, 'Maybe you want to go outside, Kim,' and I was sitting in the hallway with my head between my legs, not sure what was happening or why it was getting really hot and I was seeing stars."
Holladay fortuitously switched her major to Legal Administration. Although she initially thought she would become a paralegal, that switch ultimately set her on the path to her true calling: practicing law.
Since graduating from the College of Law in December 1992, Holladay has primarily practiced transactional law. Holladay spent several years get­ting experience at firms in Tampa and Atlanta, before she was ready to move in-house in 2000.
"I knew I eventually wanted to go in-house and I knew Atlanta would give me more opportunities for that," said Holladay. 
"I enjoy doing deals, but you never really got to know the business. I decided I wanted to be part of a company, it was appealing to me. I wanted to understand a how a business operated and how I could fit into that and help the company prosper."
Holladay has been with the same company, in various iterations, since she left private practice. Through a July 2014 merger, she became Senior Coun­sel–Corporate for Veritiv Corporation, a leading business-to-business distributor of print, publishing, packaging, facility and logistics solutions.
"Our company is only a year old, so there have been so many firsts and so many new things that I have worked on in the past year," said Holladay, who was at the New York Stock Exchange when Veritiv went public in July 2014. "I worked very heavily on the due diligence for the merger and I was also selected to be on the integration team to work with our consultant and folks from the other company to manage the integration for the two companies prior to closing. It was a great experience. I had never worked on a deal of this size."
Many of Holladay's responsibilities still center around transactional law — she provides legal support for real estate, the logistics solutions business unit as well as various corporate mat­ters, including public filings and certain international matters.
"My work has great variety, which is what I like about it," said Holladay. She also likes collaborating with the business people and the Veritiv legal team, which consists of eight lawyers and three paralegals.
Holladay also enjoys the city in which she works and lives. She is constantly sampling Atlanta's cultural offerings – including its theater produc­tions and concerts. Holladay also is a member of an Atlanta women's tennis team.
"I picked up tennis when I moved here and I have really loved it," said Holladay. "I'm a member of the Atlanta Lawn Tennis Association (ALTA) and have been with the same women's team for 10 years. Tennis has provided me with the opportunity to meet great friends whom I never would have met in my normal day-to-day of being a lawyer. It's great to get outside after you're in the office all day long."
Spending time outdoors – especially with her golden retriever Phyllis – is im­portant to the Pensacola, Florida native. She misses being near the beach, but loves Atlanta's mild change of seasons. Being outdoors is also important to Holladay when she travels.
"Over the past couple years I have been focusing on getting outdoors for an active vacation to get some fresh air and exercise – I wanted to be tired from physical activity instead of thinking," said Holladay, who counts studying abroad in Barbados during law school as one of her favorite travel experiences. "I also participated in a beginner surf camp in Costa Rica and have lately been enjoying some of the U.S. national parks – last year was Zion and this Labor Day was Acadia."
One recent trip that Holladay es­pecially treasures was one she took to Boston with her younger brother, sister-in-law and 13-year-old nephew, Cody. "It was their first visit and it was amazing. My brother said it was his best vacation ever; it was a proud moment for me."
Holladay has a very special bond with her nephew. During the summers, Cody stays with his aunt in Atlanta for two weeks. "It's a great job, this aunt thing," joked Holladay. "This relationship has also been great for my relationship with my brother – we've become even closer now that we have that to share."
Her family is extremely important to Holladay. Family is one reason why she stayed in Pensacola and attended UWF and it is also the primary reason why she chose FSU for law school – to be relatively close to home. She even­tually moved farther away, and even though Holladay is busy, she never goes more than a few months without a visit home.
As printed in the fall 2015 issue of Florida State Law magazine.