FSU Law LLM Students
Full-Width Featured Image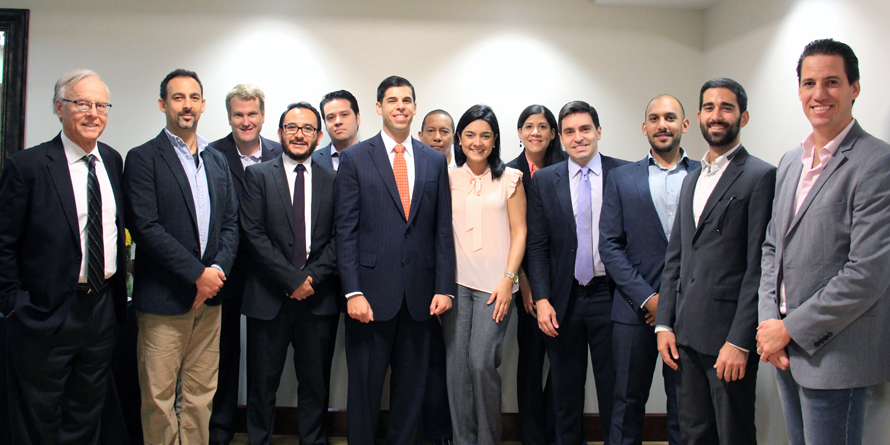 College of Law Welcomes LL.M. Students From Around the World
Florida State's LL.M. in Ameri­can Law for Foreign Lawyers program has seen tremendous growth in recent years. What was once a program that brought one or two students to Tallahassee each year has become a program that draws 10-plus students from around the world an­nually. In 2015, a record 18 students graduated from Florida State's LL.M. in American Law degree program.
The 2015-16 class of international LL.M. students is slightly smaller than the previous year – it includes 11 students who traveled from as far away as Saudi Arabia to attend classes at the College of Law. All of the stu­dents earned law degrees in their home countries before enrolling in the LL.M. program. Many of them have practiced law and bring that valuable experience with them into the classroom.
"I worked for many years in one of the most prestigious tax law firms in Rio, Brazil, handling tax cases for notorious Brazilian companies," said Renan Santos, whose specialization is taxation. "Subsequent to this experi­ence, I moved to Sao Paulo to be the tax leader of a well-known American company. After some time working for that multinational company, I received an irresistible offer to take over the tax area of a solid law firm in Rio. In all of these positions, I was responsible for all tax related issues, including consultant and litigation, tax planning for foreign companies, initiatives to reduce tax costs, legal assistant for federal, state and local taxes, as well as transfer pric­ing compliance."
Joanne Pereira finished her law studies in Venezuela shortly before be­ginning Florida State's LL.M. program. Like many of her classmates, Pereira plans to practice in the United States.
Earning an LL.M. degree may allow students to take bar exams in some jurisdictions, particularly New York, the District of Columbia, California, Washington, and Wisconsin. In ad­dition, students who attend FSU may transfer from the LL.M. program to the J.D. program if they meet certain requirements. The fact that Pereira can take courses this year that may be count­ed toward her juris doctor degree is one reason Pereira chose Florida State.
"My dad is from Miami and I really want to work in South Florida – all my family lives in Miami," said Pereira, who has dual citizenship in the United States and Venezuela. "I really want to transfer to the Juris Doctor program at Florida State. If I'm able to transfer and earn my J.D. from Florida State, I want to take the Florida bar examination and practice law in Miami. It is well known that Miami has a lot of Latin Americans and South American people and there is a growing community of Venezuelans right now. I want to pursue corporate law and there are many big corporations from Venezuela that are either chang­ing their residence to South Florida or expanding their needs to South Florida. My main focus would be to work within that Venezuelan community and within those corporations."
During the 24-credit program, LL.M. students immerse themselves in learning about our country's legal system. Required courses for the de­gree are Legal Research & Writing and Introduction to American Law. Students can tailor their remaining courses to their particular interests and career aspirations by choosing courses from among those offered in the J.D. program. Santos, for example, is tak­ing advantage of Florida State's strong program in business and tax law. One of his elective classes this semester is Taxation.
Students from Latin American and Caribbean nations have another in­centive to attend Florida State: under Florida law, they qualify for in-state tuition with a small scholarship.
Pereira and Santos have both been en­joying their experiences at Florida State.
"I love the university," said Pereira. "The school is completely different from what I'm used to. I come from a civil law country, so everything is new even though I'm a lawyer. I couldn't imagine how different two legal systems could be.
"I've never been to a small town in the United States where everything is regarding the university – we don't have college towns in my country – but so far it has been a great experience. I've been enjoying it a lot."
Even before she arrived on campus, Pereira felt welcomed by members of the College of Law community. "Since I sent the first e-mail to the university, even before starting the application process, I felt Florida State University wanted me to apply. My communica­tions were wonderful."
Santos has been especially pleased with the law faculty. "I was impressed with the facilities and satisfied with the technical ability of Florida State professors and the easy access to them. We can see that professors here have a foundation, can express themselves."
The 2015-16 LL.M. in American Law class includes foreign attorneys from:
Brazil
Cuba
Dominican Republic
Israel
Mexico
Peru
Saudi Arabia
Venezuela
Our 18 students who earned their LL.M. in American Law degree in 2015 hailed from:
Argentina
Botswana
Brazil
Colombia
China
Ecuador
Egypt
Germany
India
Nigeria
Russia
Rwanda
Ukraine
Venezuela