Professor Ehrhardt
Full-Width Featured Image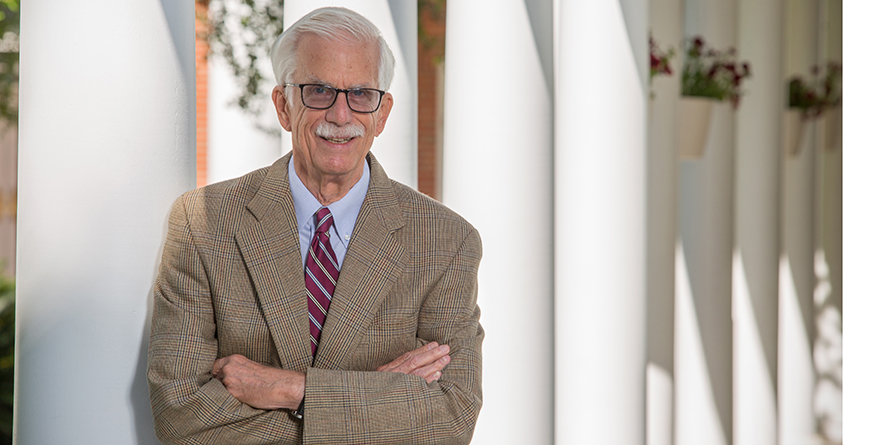 Two-thousand-seventeen marked Professor Charles W. "Chuck" Ehrhardt's 50-year anniversary at FSU Law. In 1967, he packed all of his possessions into his red 1964 Ford Mustang and drove to Tallahassee to become the fourth professor to join the faculty.
During his time at the College of Law, Ehrhardt has taught thousands of students. His booming voice is a sound many of them will always fondly remember. Although he planned to stay in Tallahassee for only two years, over the next half-century, he helped transform the College of Law from a young, ambitious law school into one of the nation's top programs. If there is ever any question about the history of the law school, Ehrhardt usually has the answer and an entertaining story or two to accompany it.
In September, we celebrated Ehrhardt's countless contributions to the law school and the larger FSU community. Approximately 250 students, alumni, faculty, retired faculty and staff gathered at the Champions Club to commemorate Ehrhardt's 50-year anniversary.
"I think it is fair to say that the law school would not be nearly as strong as it is, nor would our reputation in the community be anywhere near what it is today without Chuck Ehrhardt's 50 years with us," Dean Erin O'Connor remarked during the September celebration.
Before a packed room, Dean O'Connor presented Ehrhardt with a book of submitted memories titled, "From Our  Heart to Ehrhardt," and Florida Supreme Court Justices Ricky Polston ('87) and Alan Lawson ('87), Chief Judge Jonathan Sjostrom ('89), of Florida's Second Judicial Circuit, and Dean Emeritus Donald J. Weidner shared their memories of Ehrhardt. More than $100,000 in guest and alumni contributions transformed Ehrhardt's endowment for excellence into a professorship in his name.
While a law professor at FSU, Ehrhardt made many contributions to Florida's legal community and to the university at large. He is the undisputed authority on Florida evidence and his book on the subject is a must-have resource for students, attorneys and judges around the state. He regularly speaks to judges by phone when they have difficult evidence questions while presiding over cases. Ehrhardt has also taught thousands of lawyers and judges during CLE and CJE courses.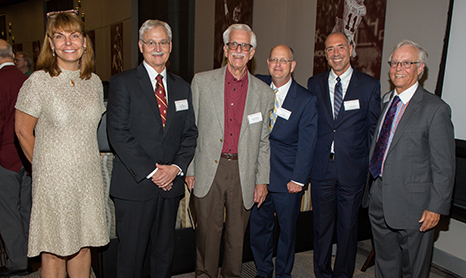 When discussing Ehrhardt's teaching of evidence to judges, Sjostrom said, "He is as respected and beloved in that role as he is by a first-year law student who is in awe as we all once were. His lectures never get old, his mastery is total, his honesty is never in doubt. It is a privilege every time I get to hear him speak on Florida evidence."
Sjostrom also said he was pleased that Lawson used time during his Florida Supreme Court investiture ceremony to acknowledge Ehrhardt's contribution to the proficiency of the Florida judiciary and presented Ehrhardt with a framed photo of the occasion.
Lawson used his time at the podium to speak directly to Ehrhardt about his passion for teaching and students. "As a student, I felt that," Lawson said. "It was clear. There is not one person here who didn't sense that you cared deeply, not only about the law, not only about teaching, but also about every student who you taught. You wanted to make us different. You wanted to launch us into a career and prepare us for the career that we were going to have. You really did that. You made a difference for me, you made a difference for all the people who are here."
Echoing Sjostrom and Lawson's sentiments, Polston said, "It's hard to think of anybody, an academic or a practicing lawyer, who has had a greater impact on the practice of law throughout the state of Florida than Chuck Ehrhardt."
In the fall, Ehrhardt also was honored for his 50 years of service with the 2017 Bernard F. Sliger Award, the highest award given by the FSU Alumni Association. In addition to serving the law school, his love for FSU athletics translated into Ehrhardt chairing FSU's Athletic Board for nearly 20 years. As the Bernard F. Sliger Award recipient, Ehrhardt rode in the 2017 Homecoming Parade, where members of the FSU Law community cheered along the parade route to show their gratitude.
"Chuck was a very, very big supporter of FSU athletics," said Weidner at the September celebration. "On the side, for 20 years, Chuck represented Florida State before the ACC and NCAA. He was actually president of the ACC – a tremendous service to Florida State University."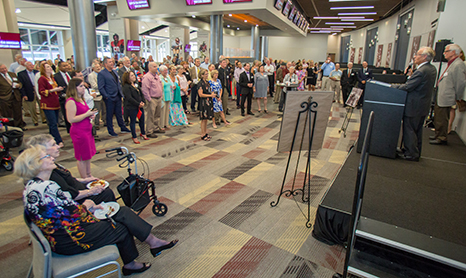 Ehrhardt was the final speaker at the event held in his honor. "I have had mixed feelings since this honor has been put on the schedule," he remarked. "I've been a little embarrassed. I did not know what to make of it, but I do now. This has been wonderful. The reward in teaching is the success of a student. As I look around this room tonight and look at all the people who have been so successful, that's my reward. If I've had a small part in that, I've served my purpose." 
As printed in the 2018 issue of Florida State Law magazine.