The Remingtons: A Florida State Family
---
The Remingtons: A Florida State Family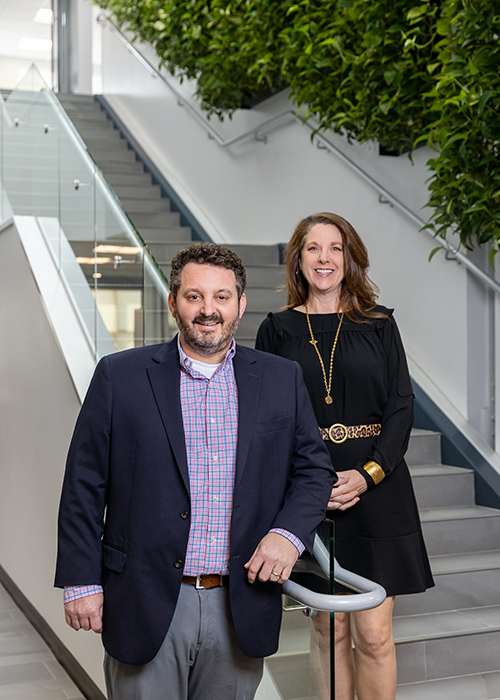 Amie and Scott Remington met in Civil Procedure during their first year at FSU Law. They joke that Amie's excellent note-taking ability was the reason for their connection. The pair often studied at Amie's house, which was much more conducive to studying than Scott's house across the street from the law school, which he recalled as "a great party house."
Now, more than 25 years later, the Remingtons both have successful legal careers in Pensacola and a busy life at home as the parents of three.
Scott is the president and managing shareholder at Clark Partington Hart Larry Bond & Stackhouse. He has been with the firm since the Monday after he and Amie graduated from law school in 1997. He concentrates in the areas of litigation, real property and business law, spending half of his time practicing and half managing the firm's five offices and approximately 100 employees.
"I always thought I would be a plaintiff's lawyer or a civil rights lawyer, but when I showed up for the first day of work, my supervisor Bill Bond ('77) told me I was going to be a real property lawyer," Scott remarked. "I enjoy working with clients and helping see their projects and dreams come to fruition."
Through his work, Scott has been instrumental in helping clients like Quint Studer revitalize downtown Pensacola. He is general counsel to the Pensacola Blue Wahoos minor league baseball team and has represented some of the most transformative leaders in the community. He also serves as general counsel for Triumph Gulf Coast—the organization responsible for distributing $1.5 billion in economic aid resulting from the state's lawsuit against BP.
Now serving in his ninth year as managing shareholder, Scott jokes that the job is "like nailing Jell-O to a cat."
"You deal with a lot of very smart and talented people and I receive a great deal of joy watching young lawyers develop and succeed as part of a team," said Scott. "If you grew up playing team sports or serving in the military, you enjoy the satisfaction of working with a team to bring about a positive result for a client."
Clark Partington's culture and emphasis on teamwork are such that Scott and many other talented attorneys have stayed at the firm for decades. Because the attorneys enjoy working together, Scott counts colleagues among his closest friends. They take vacations together and socialize on the weekends.
"I inherited a fantastic culture. I did very little to build it," said Scott, who is in the final year of his third term leading the firm. "The greatest responsibility I have is to do my best to maintain what was handed off to me and be in a position to pass that on to the next leader with the firm in as good—or better—a place than I found it."
Scott is looking forward to transitioning back to practicing law full time and the increased client contact and courtroom time/Zoom time that will inevitably follow.
Like Scott, Amie began working at a Pensacola law firm the Monday after graduating from law school. She fell in love with employment law when she was assigned to a sexual harassment case as an associate at Bozeman Jenkins & Matthews and has been practicing in the area ever since. For the past 15 years, she has served as general counsel at LandrumHR, a national human capital firm offering permanent and interim staffing, PEO and workforce solutions to its business clients.
"I believe in civil rights to my core, so if I can help employers pay their employees correctly, maintain safe work places, and maintain fairness and transparency, I can positively impact employees' lives," said Amie. "Our company currently has about 9,000 job-site employees and my job helps those employees live better because they are all being paid fairly, they're all being treated fairly and they're all being trained properly."
Amie relishes the teaching aspect of her job and speaks frequently to employers and industry groups around the nation about employment law. She has spoken to more than 20,000 people about how to be compliant with the law, thereby helping employees who don't even know she is advocating for them.
The Athens, Georgia native has been fortunate to have the flexibility to work part time since the Remingtons' first child was born in 1999. For two decades, Amie has divided her daily schedule between her career and her children.
"My week involves taking the kids to school and doing family things until 7:30 a.m. and then working until 2:00 p.m. When I pick the kids up from school, I am able to flip the switch and prioritize my family," said Amie, who credits Scott with her being able to spend time with the kids in the afternoons. "I've been really lucky to be able to maintain that balance all these years. At LandrumHR, I get to do the professional legal tasks that I think are fascinating, like read the law, do a lot of writing, presentations and teaching. And then at the end of the day, I get to learn a little biology, find 'x' in algebra problems and listen to saxophone lessons."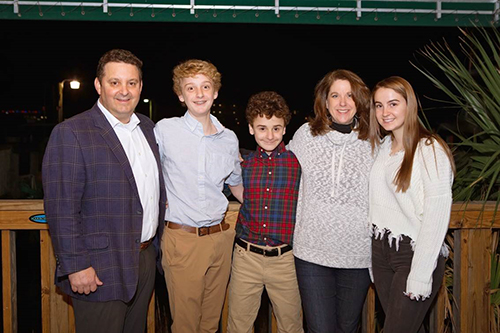 In addition to their two boys at home—tenth-grader Tom and eighth grader Harry—the Remingtons have a daughter, Virginia, who is a junior at Florida State University. Shortly after she began studying at Florida State, the Remingtons purchased a small farm in Red Bay, which is halfway between Pensacola and Tallahassee and allows them greater flexibility to visit Virginia and attend FSU events.
"We love to spend time there when we can, gardening and chasing guinea hens," said Scott, who enjoys growing and cooking a wide variety of vegetables. The farm is a place where they watch movies, read, ride their MULE in the woods, cook over a fire pit and "get off the grid."
At home, Pensacola has been a wonderful environment for the Remingtons to raise their children and cultivate their careers. Upon moving to Pensacola, Scott and Amie married at St. Christopher's Episcopal Church, and have been actively engaged personally and professionally with the church. As chancellor of the church for 20 years, Amie provides general counsel services and advises the church on a wide range of issues. Scott serves as Florida chancellor for the Episcopal Diocese of the Central Gulf Coast and has served the Episcopal Church at the national level. His work at the national level has included attending three general conventions of the Episcopal Church and service on the State of the Church Committee and Constitution and Canons Committee.
Scott recently began serving on the Pensacola Police Citizens Advisory Committee, which is working to improve relations between the community and the police department and make the community a more equitable place for all citizens. Scott also serves as a trustee at the University of the South, where he was an undergraduate, and is on the FSU Law Alumni Association Board of Directors. FSU is an important part of the Remingtons' lives.
"I'm proud that my parents, my wife and I, and now our daughter have all spent time at Florida State," said Scott. "It is a great family legacy and tribute to the university for which we are very proud. Florida State is always something we can all share as a family—over three generations."
As printed in the 2021 issue of Florida State Law magazine.