Sid Garcia ('84)
Labor Advocate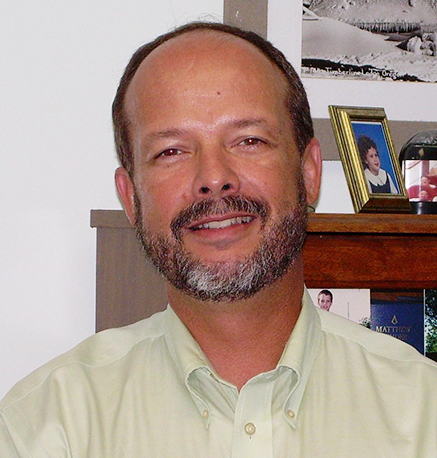 Isidro "Sid" Garcia worked as a journalist and editor for the student newspaper and part-time at UPS while he was an undergraduate at the University of Miami. In different ways, both experiences led to Garcia having a successful labor law practice in West Palm Beach.
Getting involved in a UPS union profoundly impacted Garcia's decision to specialize in representing employees.
"That was part of it. Also, I immigrated from Cuba and one of the things that I think influenced me was the fact that my parents were both school teachers and for refusing to join the communist party and also petitioning the government to leave Cuba, they both were fired from their teaching jobs," said Garcia, who came to the U.S. in 1966 when he was eight years old. "That was an early shaper of things."
Garcia has been practicing labor law since he graduated from the College of Law in 1984. He worked for five years at Florida Rural Legal Services immediately after law school, primarily representing migrant workers in labor matters. Since then, he has practiced at small law firms and opened his solo practice, Garcia Law Firm, P.A., in 2004. He represents individual employees who have been mistreated in the workplace, primarily in wrongful termination and harassment claims. He also handles the appellate work on his cases.
"I consider my clients to be very brave people because they do things that sometimes are good things to do, such as make a report of unlawful conduct, but they are not always rewarded for doing those brave things by their employer," Garcia said.
"One of the more meaningful cases I've done is one involving a former police officer, Mr. Ladd," Garcia said about a case that resulted in a jury verdict of approximately $880,000 for his client. "He was a combat veteran and his Humvee, one of those IED devices got to it and there were several members of his crew that were injured or killed, but he survived without a scratch. When he came to work for a local municipality as a police officer, he told some of his stories and somehow he got branded as someone who had mental health issues from the war." 
Garcia's client was forced to undergo a psychiatric evaluation by his employer. Although the psychiatrist determined that Ladd did not have any mental health issues that would impede his ability to perform his job, he was fired.
Obtaining favorable jury verdicts like Ladd's is very gratifying for Garcia.
"Those are really tense times because these are important cases to my clients and they have so much riding on the outcome," Garcia said. "I sometimes tell juries that people define themselves by the type of work they do. To have that taken away from them is not only something that puts them in economic peril, it also affects their family, their feelings of self-worth, their dignity. To be vindicated by a jury is an amazing feeling for them and for me as their advocate."
In his younger days, Garcia defined himself as a journalist. He studied journalism at the University of Miami before switching his major to English and History. Working for the Miami student newspaper and the El Miami Herald provided him the opportunity to interview numerous notable people, including former FSU football head coach Bobby Bowden.
Garcia's journalism experience is very beneficial to practicing law. "It's very similar – you are interviewing people, you are chasing down stories about people. Whether you are taking a deposition or presenting a case to a jury, you have to have a certain level of sensitivity and tact and know how to get people to tell you the truth. And you have to communicate well when you write."
Recently, Garcia found himself in a new advocacy role when personally devastated by the effects of the nation's heroin epidemic. In September 2015, at the age of 27, Garcia's son Brian passed away from a heroin overdose shortly after completing a rehabilitation program.
"That was the most difficult thing I've had to deal with in my life," Garcia said. "He struggled with the problem of addiction for many years. He was a beautiful young man. He was into many things that I was into – fishing and diving and spear fishing. He was a wonderful athlete. The opiate epidemic – he is one of the many victims it has taken in Palm Beach County."
Since his son's death, Garcia has worked with the Palm Beach Post to educate others about the rampant heroin problem. Garcia made the choice to include the overdose in his son's obituary and spoke candidly when the Post interviewed him for a follow-up article. 
"My goal is to make people aware and to hopefully save someone from thinking that they can be okay to relapse," Garcia said. "This stuff is so deadly."
Garcia and his wife, Sally, also have a daughter, Sarah, who is a film school graduate and media teacher at a public high school in Palm Beach County. Like her father, Sarah earned her undergraduate degree at the University of Miami.
In addition to being near his daughter, there are many things that Garcia appreciates about living and working in Palm Beach County. As someone who owns boats and enjoys almost any activity that involves water, Garcia likes being close to the Gulf Stream. During the summer of 2016, Garcia planted deeper roots in his community when he bought an office condo – one of the oldest office buildings in the area – in Palm Beach County.
"I think we have the most progressive population in the entire state, in terms of just good people that understand other people's problems," Garcia said. "I see that from juries. It's a very tolerant place, too. I have friends around the state, lawyers that do the type of work I do, and they are always moaning about how difficult it is to get plaintiffs' verdicts in different parts of the state. I think Palm Beach County is probably one of the best places to practice in the state if you do the type of work that I do." 
As printed in the 2017 issue of Florida State Law magazine.