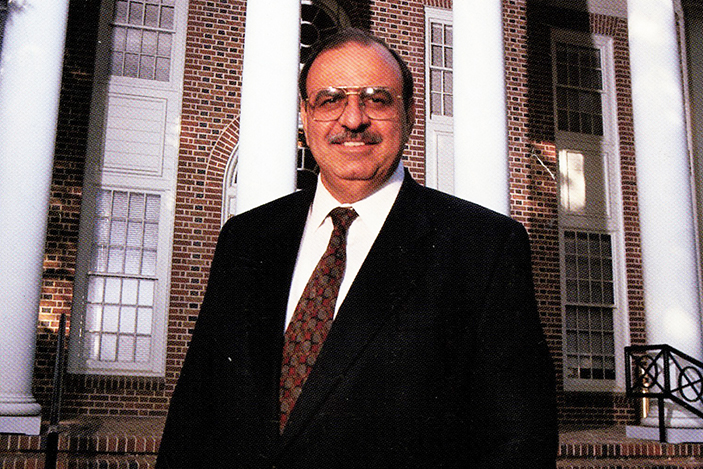 Terry Russell and I met as classmates in the 1966 charter class of the FSU College of Law. We both had grown up in Jacksonville and graduated from the University of Florida, so we had things in common that brought us together. It was obvious from the beginning of law school through our graduation that Terry had a great passion for the law. He was an excellent student and contributed greatly to our class.
Terry and I were nominated for Gold Key at FSU. This nomination put the Gold Key Board in a very difficult dilemma, since they had never had any University of Florida graduates nominated. It was only after a three-hour debate that they finally concluded we were not "bad guys" after all and approved our nominations. It was a milestone for FSU!
Terry went to work for a federal judge, and I joined the Bartow law firm of Holland & Knight. Our paths crossed later as we both began our service in The Florida Bar. We both became members of the Board of Governors of The Florida Bar, and Terry's passion for the law, passion for his law school, and passion for his profession were evident in everything he did. Terry's accomplishments in his service to the bar are almost unprecedented.
Terry was the second FSU law school charter class member to become president of The Florida Bar in 2001-2002. Terry wanted to create the Attorney's Charitable Trust (ACT) funded by the bar's members for its members. The ACT was used for not only 9/11 relief, but also natural disasters over the years.
An advocate for keeping the courthouse doors open to all, Terry worked tirelessly during his term for the passage of the Civil Legal Assistance Act that provided millions of dollars for civil legal services for several years thereafter. Terry, who also served as the president of The Florida Bar Foundation, received the Foundation's Medal of Honor Award for that effort.
Terry is believed to be one of two people to have served as president of both The Florida Bar Foundation and The Florida Bar.
As part of a project to document the history of The Florida Bar, Terry said he wanted to be remembered "first as a solid lawyer, with a strong love of our profession, and as a leader who advanced our ideals of professionalism, compassion for those in need, and public service." Without a doubt, Terry was such a person and should be remembered as he wished to be.
Terry and his wife, Mary Kay, met when they both were attending Bishop Kenney, a Catholic high school in Jacksonville. They married in 1966 and have two children, Christine and Greg.
Terry will be sorely missed not only by his family, friends, colleagues, and those who benefited from his hard work as a member of our profession, but also by the citizens of the state of Florida, many of whom benefited from his tireless service. Rest in peace, my friend, for a life well lived.
- Tribute written by FSU Law alumnus John W. Frost II ('69) 
---
Terry was an unselfish individual who was totally dedicated to making life better for all who were lucky to know him. He was dedicated to his Lord, family, the practice of law, and his clients. He left us way too early.
- C. Jeffery Arnold ('69) 
---
Terry Russell was a leader of our charter class. He was always well informed about procedures, events of interest, and, of course, our studies. He was a resource for discussions about any legal principle involved on any legal subject. He did his homework and then some.
After law school, Terry was a lawyer's lawyer. He continued as a student of the law and became a statewide leader in the area of commercial litigation. At the same time, he was a committed citizen, family man, and friend. All of us in our class were proud of his leadership in our profession and his leadership of The Florida Bar and support of the Florida judicial system.
I spent 12 years in the Florida House of Representatives, and during this time Terry and I discussed governmental and legal issues frequently. His advice was always unselfish and solid. After I left office, we stayed in touch a number of years and even practiced in the same firm for a while. Terry will always be remembered as a leader in law and in life. He was one of our classmates that clearly represented the success of the FSU College of Law and the positive impact it has made through its graduates.
- James Harold Thompson ('69)