Alexa Ravencroft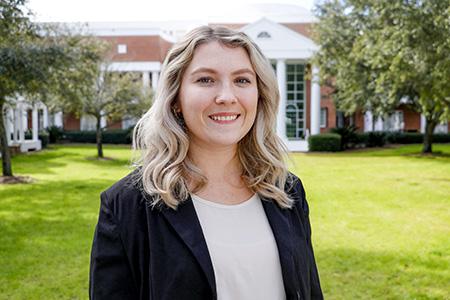 3rd Year
Undergrad
University of Nevada, Reno
Area of Interest
Business/corporate law
What has been the best experience you have had at the College of Law thus far? 
My favorite experiences have been the socials hosted by the Student Bar Association. I particularly enjoyed the Harry Potter-themed Halloween social with a costume contest. The socials are excellent opportunities to spend time with your existing friends and to make new ones. 
What has been your most challenging experience in law school thus far? 
My most challenging experience thus far was taking my first set of final exams. Most of us have never encountered exams like this before. They require you to think and analyze in an entirely new way. It was helpful to study with my classmates and talk to 2Ls and 3Ls, so I could go into exams more confidently. 
Which professor has been particularly helpful to you during your time at the College of Law? 
My favorite professor currently is Professor Seveir. He makes the material easier to understand by using relatable examples from pop culture. I would highly recommend taking a class with him.
What's one fun fact about you?
Although I'm from the desert, my hobbies include freediving and scuba diving. I'm excited to live in Florida, which has an abundance of coastline and freshwater springs, so I can start an entirely new underwater chapter.