Allison Laudadio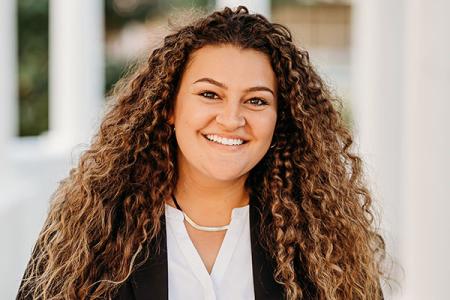 2nd Year
Undergrad
Florida State University
Hometown
Tallahassee, Florida
Area of Interest
Public interest work, with a focus in international human rights or immigration law
Why did you choose the College of Law?
FSU College of Law stood out to me because of the genuine kindness I encountered in everyone I met during the application process, from older students to alumni to faculty and staff to peers at preview day. I knew I wanted to surround myself with people who would support me, and that's exactly what I have at FSU.
How have you interacted with our alumni network?
As a Tallahassee local, I have interacted with alumni in various capacities throughout my life. I've interacted with alumni during my time in law school in networking events, mentor/mentee programs, career fairs, lunchtime talks, etc.
What has been the best experience you have had at the College of Law thus far?
It's hard to chose one, but I think my favorite experience so far has been Semi-Formal, hosted by SBA during the fall semester. It was so fun to get all dressed up with my friends and let loose! I've also loved every meetup with Section A, because we are a close-knit group and we have a ton of fun together!
What has been your most challenging experience in the College of Law thus far?
Adjusting to the grading curve has been a major mindset shift. I am surrounded by peers who also had high performance at every stage of their academic career, but it's important to keep a collaborative rather than competitive mindset, because we are all better off that way!