Emma Wells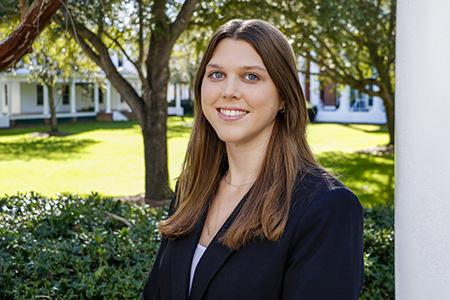 3rd Year
Undergrad
University of Florida
Hometown
Orlando, Florida
Area of Interest
Medical malpractice, personal injury, public interest
Why did you choose the College of Law?
I chose FSU Law because, out of all the schools I applied to, this was the school that seemed to just have it all: a great location, amazing alumni network, and phenomenal faculty. FSU Law provides such a well-rounded community that is beneficial in so many ways.
What do you feel is unique about Tallahassee and/or the College of Law?
Something unique about FSU Law is just how close we are to the Capitol. Because we were so close during orientation, we were able to walk to the Supreme Court of Florida for tours. I love being so close to a place of such history and importance.
How have you interacted with our alumni network?
FSU Law does a phenomenal job at fostering relationships between alumni and current students. My first experience with alumni was during a summer meet-up before I started law school. By going to that one event, I was able to get to know alumni on a personal level. Further, I was able to form a relationship, and I now have a mentor that I can reach out to anytime for any reason, not just those related to law school.
What is one fun fact about you?
I collect keychains! I have more than 300 in my collection from all over the world, including some from Egypt, New Zealand, and even Iceland!