Hannah Robinson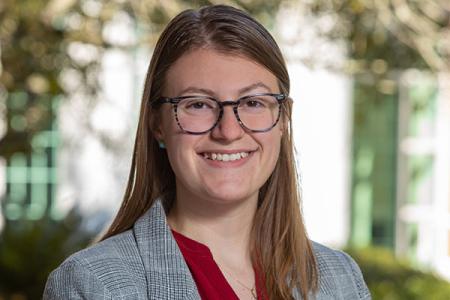 2nd Year
Undergrad
Florida State University
Hometown
Pensacola, Florida
Area of Interest
Government law, criminal law, state agency/legislative work, public interest
How have you interacted with our alumni network?
I have reached out to various FSU Law alums who are state agency employees here in Tallahassee, as well as attorneys back home in Pensacola, for their advice on how they got where they are and the kinds of experiences I should seek out as I work towards a career in public interest law! Many of them have helped me by introducing me to other professionals, advising me on different programs or opportunities to look into, and just taking time out of their day to speak with me and give me some guidance. All of the FSU Law alums I've had the pleasure of speaking to thus far have been very personable and willing to sit with me, and it feels like they really want to help us in our endeavors. Tallahassee especially is a hot spot for government employees, many of whom have ties to FSU Law and are often happy to help us out!
What has been the best experience you have had at the College of Law thus far?
Believe it or not, taking Professor Atkinson's infamous take-home Property exam was a pretty good experience! Though the test was difficult, Professor Atkinson emailed us several times during the 27-hour period to make sure we ate meals and went to bed on time, and he sent a congratulatory email when the exam was over. He also joked around with us as we grabbed our exam packets, which helped me calm down a bit. 'Citizen' Atkinson has also helped me greatly in applications and in giving me some criminal law connections at FSU Law - even after I finished his first-semester Property class. I think this highlights the way professors at FSU genuinely care about their students!
Which professor has been particularly helpful to you during your time at the College of Law?
Professor Emily Spottswood has been incredible; she's the professor that most genuinely comforted me when she told my section that B+ grades were signs of very hard work and something to be proud of. She also took time when she was out of town to meet with me personally via Zoom and discuss some career options with me, helping me feel less worried about my future. She also has a volunteer-based discussion system for Civil Procedure, which made me feel more comfortable in learning the material instead of being stressed for cold calling.
Why did you become a student ambassador?
I love FSU, and I'm proud to be a double 'Nole. FSU genuinely cares about its students' academic, financial, personal, and mental wellbeing, and I want to make sure admitted students know that as they consider which law school is a good fit for them. I remember a student ambassador calling me when I was admitted to personally congratulate me and answer any questions I had. This made me feel really welcomed and wanted, and I'm excited to do that for other students!