Katlin Hickman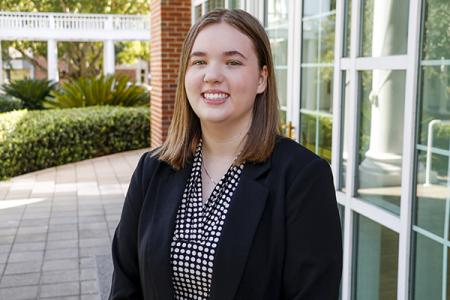 3rd Year
Undergrad
Appalachian State University
Hometown
North Wilkesboro, North Carolina
Area of Interest
Criminal, government, gaming, elder, family law
Why did you choose the College of Law?
I chose Florida State College of Law because of the positive experience I had with faculty and current students during the application process. Everyone I encountered was willing to share so much about their experience in law school and offer tips on choosing the right school. In addition, as an out of state student, FSU allows their students to apply for in-state waivers their second year, and those significantly reduce tuition prices. Overall, FSU Law was the most cost-effective option and the most welcoming option. 
How have you interacted with our alumni network?
I have interacted with FSU Law alumni through the Women's Law Symposium. Women's Law Symposium has a mentorship program in which current law students are paired with women lawyers practicing in Tallahassee. My mentor is an FSU alum, and she has been so incredibly nice and helpful throughout my 1L year. She even helped me form a connection that led to my 1L summer job. 
What has been the best experience you have had at the College of Law thus far?
I have really loved attending the Wellness Wednesday events that the Student Advancement Office hosts throughout the year. I have been able to participate in trivia, live cooking shows, and a vision board party. The Wellness Wednesday events help me get through the mid-week slump, and that's why they have been the best experience I had at FSU Law.
What has been your most challenging experience in law school thus far?
The most challenging experience to overcome in law school is rejection. I had to learn very quickly that every opportunity you apply for will not be your opportunity. You will face rejection often, and it was hard to not take it personally. A good lesson to learn is that rejection is not an attack on your ability or intelligence, it's just a stone in the path to your greater purpose. 
Which professor has been particularly helpful to you during your time at the College of Law?
I really like Professor Krieger. During my first week in his Criminal Litigation Skills class, I struggled to speak in class. Professor Krieger recognized how anxious I was in class and helped me work through those feelings to become a more effective speaker.