Samantha Mayberry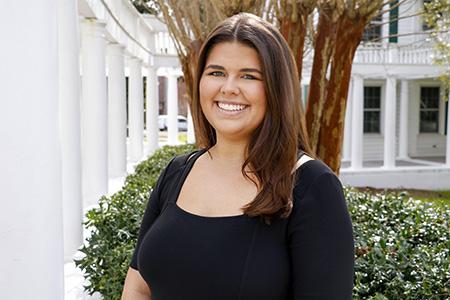 3rd Year
Undergrad
University of South Carolina
Hometown
Jupiter, Florida
Area of Interest
Corporate law, government/legislation/policy, international law
What has been the best experience you have had at the College of Law thus far?
Last semester, I had the opportunity to have coffee and donuts with Dean Benavides and other 1L students during a Halloween-themed event! I love how welcoming and approachable everyone at FSU Law is, and it was so much fun to get to know Dean Benavides and spend time with my classmates in a non-academic setting! 
Which professor has been particularly helpful to you during your time at the College of Law?
While I have loved every professor that I've had during my time here, I have to give a shout-out to Professor Sevier. He went above and beyond to make the 1L fall as smooth as possible, and he even took time out of class to check in with us and encourage us! He also included many fun videos and pop culture references and examples in his class that made the concepts stick! 
Why did you become a student ambassador?
I became a student ambassador because I love it here at FSU College of Law! I wanted to be able to help prospective 'Noles understand what makes FSU different and how the resources here will be able to help them reach their goals! 
What did you do during your 1L summer?
This summer, I will be participating in the Oxford Study Abroad program! I'm so excited to learn from the faculty at such a world-renowned institution while expanding my legal education in the field of international law!