Sophie Hecker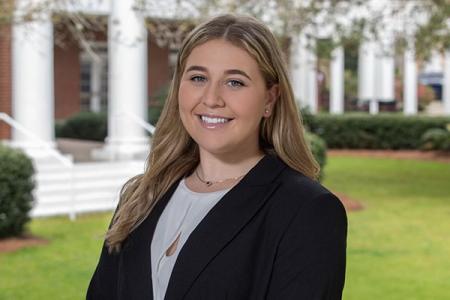 2nd Year
Undergrad
Florida State University
Hometown
Fort Lauderdale, Florida
Area of Interest
Business law, corporate law
What has been the best experience you have had at the College of Law thus far?
The best experience I have had so far has been truly building awesome relationships with other 1Ls in my section and class. We are a tight-knit group with diverse backgrounds, and it has been amazing to connect with so many new people.
Which professor has been particularly helpful to you during your time at the College of Law?
Professor Kahn has been great. He is intelligent, entertaining, helpful, and funny! He has made his class immensely enjoyable, and I feel as though I have learned a ton from him.
Why did you become a student ambassador?
I would love to help the prospective student population find their place at FSU College of Law. Law school can be intimidating and daunting, but the transition has truly been so smooth for me because of the staff, culture, and collaborative environment.
Give one fun fact about yourself.
I am a huge Miami Dolphins fan!