Thomas Kelly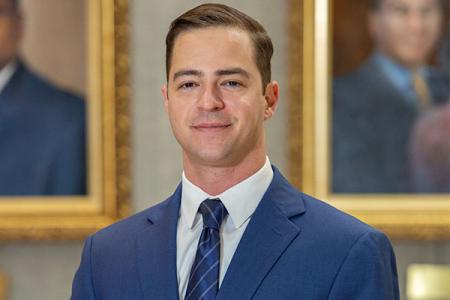 3rd Year
Undergrad
University of Miami
Hometown
Sarasota, Florida
Area of Interest
Litigation, specifically in the areas of business law, tax, corporate, probate, or real estate
Why did you choose the College of Law?
After working in the private sector to gain experience and recharge from academics, I wanted to get back to school, and I had enjoyed my experiences in the public sector. With a desire to practice law in Florida, there is no better place for legal training and public sector opportunities than FSU Law!
Which professor has been particularly helpful to you during your time at the College of Law?
It is really hard to choose just one since they have all been a great help for networking, preparing for interviews, and fielding questions about class or the workforce. I have especially enjoyed my time in Dean Weidner's class; he has a wealth of knowledge about legal writing and the history of the law as well as about the legal community for networking!
What did you do during your 1L summer?
During my 1L summer, I had the opportunity to clerk with Judge Robert Crown, of the Twentieth Judicial Circuit in Naples. I highly recommend clerking opportunities because you will rarely get such an intimate opportunity to understand what a judge is thinking and how they think through their opinions. My favorite part was the honest opinions I would receive on attorney advocacy styles and approaches from someone who has been an advocate and sees advocacy every single day. If you are interested in clerking for a Judge, absolutely make it a priority. If you are not, do it anyway—I promise you will find it interesting!
Give one fun fact about yourself.
I am a classically trained pianist. Huge Mozart guy.