Zac Klein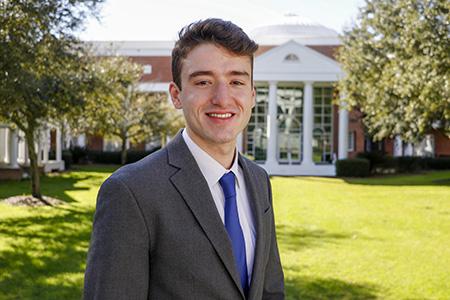 3rd Year
Undergrad
Florida State University
Hometown
Tarpon Springs, Florida
Area of Interest
Government, criminal, environmental, in-house
What do you feel is unique about Tallahassee and/or the College of Law?
The uniqueness of FSU Law stems from the atmosphere at the school. The environment is one that encourages collaboration between all students. Everyone at FSU Law wants me to succeed, which can be quite rare to find in a law school!
What has been the best experience you have had at the College of Law thus far?
The best experiences I have had at FSU Law thus far are the opportunities I have been exposed to and the people I have met.
Why did you become a student ambassador?
I became a student ambassador for the College of Law to show admitted and prospective students the advantages of choosing FSU Law and to become a resource for anyone interested in the college. When I took my tour of the law school campus, I felt a welcoming sense of community that I now want to share with new visitors to the campus!
What is one fun fact about you?
I am from Tarpon Springs, Florida, the sponge capital of the world!