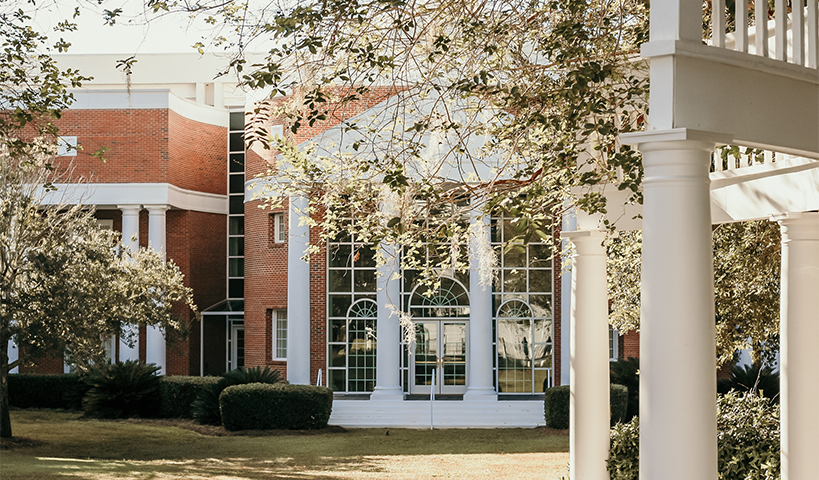 Congratulations on your admission to Florida State University College of Law!
Acceptance to our law school is highly selective. We are very pleased to offer you the opportunity to be a part of our exceptional student body and we hope you will accept.
We are committed to helping you connect with our community and look forward to helping you get the most from your experience. You can expect to hear from members of our student body, faculty and staff in the weeks ahead. As you make the critical decision regarding where to attend law school, we are available to assist you with any questions you may have about the Florida State College of Law or law school in general. Please contact us if you have any questions.
---
Why FSU Law?
---
Weekly Tips for Enrolling Students
We are excited you accepted our offer to become a member of the Class of 2025! As you prepare to join our fall class, the Office of Admissions will send out information weekly to ensure a smooth entrance to the College of Law in August. This information will be sent as weekly tip emails. These emails contain vital information and some require action to be taken by you to meet entrance requirements. Below you can access all of the weekly tips for quick and easy reference.
Weekly Tip #1: Health Insurance & Immunization Requirements
Weekly Tip #2: Summer Fun Box
Weekly Tip #3: FSUCard & Parking Permit
Weekly Tip #4: Technology Services, Support & Tips
Weekly Tip #5: The Research Center & Reminder to Submit Final Transcripts
Weekly Tip #6: Register for Orientation
Weekly Tip #7: Admitted Student Pre-Orientation Virtual Events
Weekly Tip #8: Main Campus Resources for Students
Weekly Tip #9: 1L Entering Survey
---
View the College of Law
Schedule a Visit
Admitted Student Visiting Days Registration: Summer 2022
During the summer months admitted students may schedule a tour with the Office of Admissions between May 16, 2022 and July 29, 2022 during normal business hours (M-F, 8:00 am – 5:00 pm) with the exception of the following dates:
Memorial Day: May 30, 2022
Student Examination Period: June 27, 2022 – July 1, 2022
Independence Day – July 4, 2022
If you are an admitted student you can e-mail the Office of Admissions directly to schedule your tour. In your request please provide your preferred date and time. If the date and time you request is unavailable, we will reach out to you to identify an alternate date and time before planning your visit. You may bring visitors with you, but we request that you limit visitors to no more than two individuals, as we may be scheduling more than one admitted student per tour.
Please understand that visit requests submitted during non-business hours, on weekends, or during holiday periods will be responded to when we return to the office and during normal business hours (M-F, 8:00 am - 5:00 pm). Once the specific date and time are scheduled by the Admissions Office, we will confirm the details with you by e-mail.
---
Campus Videos
Until you are able to visit the College of Law in person, we wanted to provide you with some opportunities to view the law school virtually. We look forward to you joining us in person soon!
Virtual Tour
---
Outside Scholarship Information
Review the AccessLex scholarships database for a comprehensive list of scholarships maintained for law students.
---
Share Your Acceptance on Social Media!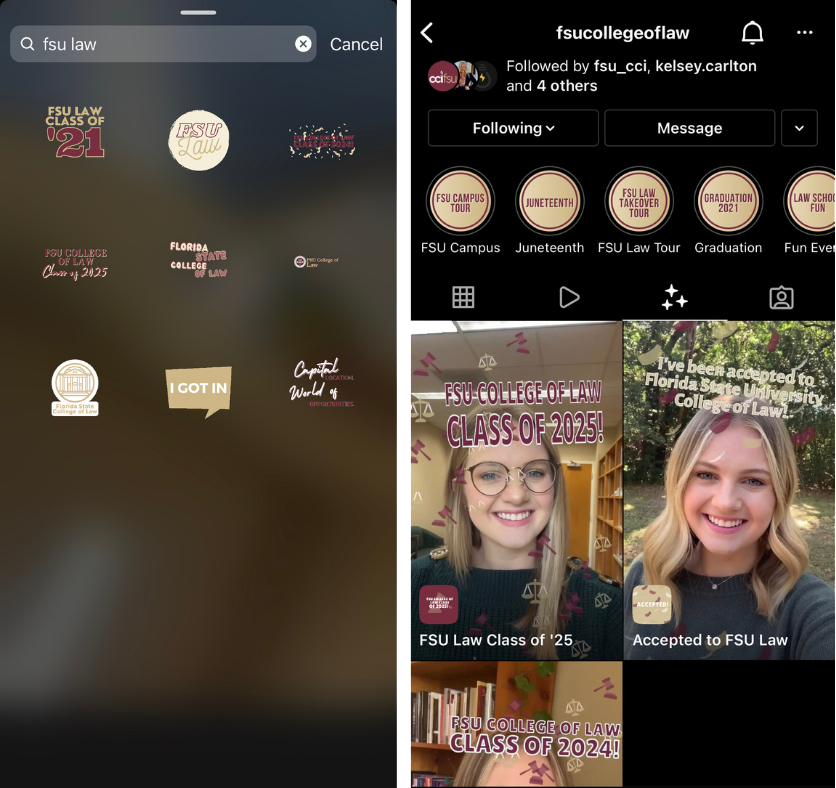 We have created several social media graphics to help you celebrate joining the FSU Law family. You can use these graphics when you are announcing that you have been accepted to FSU Law, have accepted your seat, or any other time you want to celebrate becoming an outstanding member of the newest FSU Law incoming class. Don't forget to tag us @FSUCollegeofLaw on Facebook or mention us @FSUCollegeofLaw in your Instagram story, so we can help you celebrate!
In Facebook and Instagram stories, search "FSU Law" in the giphy search bar to add FSU Law-themed giphys to your photos and videos. Specifically, look for the "I've Been Accepted to FSU College of Law" and "FSU College of Law Class of 2025" giphys. On Instagram, visit the official FSU College of Law account and use the "Accepted to FSU Law" and "FSU Law Class of '25" filters on our filters tab.
---
Notify Us of Your Decision
To accept or decline our offer of admission, complete your decision statement online by the deadline on your admit checklist.
Early Binding Decision pool applicants have a deadline of January 31, 2022 to submit the decision statement and seat deposit. View this checklist if you were admitted under Early Binding Decision.
Regular pool applicants may have different deadlines depending on when they are admitted. Applicants admitted up to March 15 typically have a deadline of April 15, 2022 to submit the decision statement and seat deposit. View this checklist if you were admitted up to March 15, 2022. Applicants admitted after March 15, 2022, refer to the checklist you received upon admission for your specific deadlines as they may be different than the deadlines listed here.
---
Non-Resident Reclassification Information
Most non-residents are eligible to reclassify to in-state status for tuition purposes after the first year. The requirements for establishing residency in the state of Florida are set by the Florida Legislature. View the reclassification requirements. Documents establishing residency must be obtained PRIOR to the first day of classes of the first semester in order to meet the minimum requirement of 12 months prior to the term seeking reclassification (i.e. first semester of the 2L year). The only exception to the 12 month timeframe is the date on the letter from the Florida Bar. See the Out of State Residency Reclassification Checklist below for additional details.
---
Housing Resources
---
United States Military Veterans
Florida State University makes available programs and services to current and former members of the U.S. military. The FSU Student Veterans Center offers assistance with and certification of all educational benefits provided by the VA and DoD. Also, an on-campus orientation session exclusively for veterans and active duty personnel is conducted a few days before the start of the Fall semester. Information on these and other veteran-support programs is available at veterans.fsu.edu.
State and federal law extends out-of-state tuition waivers to students who are honorably discharged veterans of the United States Armed Forces, The United States Reserve Forces, the National Guard or eligible veteran dependents using VA educational benefits, regardless of these students' state of residency, as long as they physically reside in Florida during their time in school. For additional information, view the Veteran out of State Waiver information below.
---
Follow us on social media to connect with the FSU Law community and learn more about why you should choose FSU Law!
title-inside title-centered
2