During the 2021-2022 academic year, the College of Law is pleased to host lawyers from China, Haiti, India, Italy, Jamaica, Saudi Arabia, South Korea, Spain, Turkey, and the United States.
We offer three LL.M. programs for students who wish to further their legal studies.
Our LL.M. in American Law for Foreign Lawyers program gives those with a law degree from another nation an understanding of the American legal system and the role of law in the United States. Our LL.M. in Environmental Law and Policy gives J.D. holders the opportunity to concentrate in or enhance their knowledge of environmental law, energy law and land use law. The LL.M. in Business Law is designed to provide advanced business law and finance training to lawyers in areas of growing demand. In all LL.M. programs, our faculty members work one-on-one with students to ensure that the programs best meet their academic and professional goals.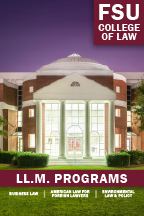 title-inside title-centered
2