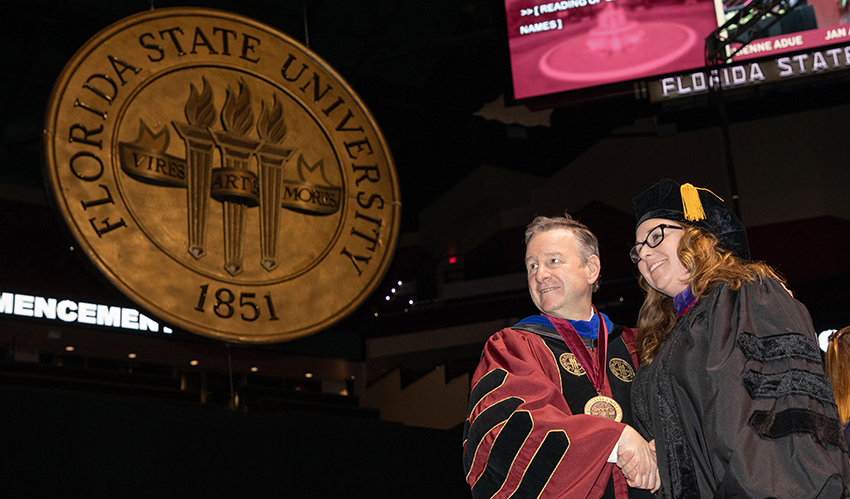 FSU's Online Juris Master Program is the nation's #2 ranked Online Master's in Legal Studies. Earn a master's degree in law and learn important legal and regulatory compliance skills that can help you advance your career.
The online Juris Master is a 30-credit-hour master's in law that can be completed on a part-time basis. Students in the program gain an in-depth understanding of the law and regulations impacting heavily regulated industries. The career-focused curriculum was specially designed to prepare working professionals to better understand the compliance issues surrounding their work and effectively strategize for, identify, and understand potential legal and regulatory hazards. Students also gain an understanding of how to implement intelligent risk management programs and determine when legal counsel is needed. Based on their specific career needs and goals, students can choose one of five concentrations:
Students are required to take foundational courses in Legal Studies and Research, Contracts, Torts, Legislation and Regulation, and Regulatory Compliance. Beyond these requirements, students may personalize their curriculum within their chosen concentration. Each concentration has a menu of advanced course offerings to afford students a multi-faceted understanding of the laws impacting those areas.
 
Program Highlights
► Online with Asynchronous Courses – Learn whenever, wherever; there is no on-campus requirement. Courses include pre-recorded lectures and interaction with peers and professors through discussion boards and constructive feedback on assignments.
► Innovative and Relevant Curriculum – Benefit from a curriculum developed with the advice of industry professionals and prominent in-house and outside counsel to combine academic knowledge and practice-based learning. The program offers numerous and varied courses that target real-world compliance issues faced by many industries.
► National Recognition – Earn a degree from a top 50 law school and top 20 Public University (U.S. News & World Report, 2022).
► Affordable Tuition Rates – Obtain a competitively priced degree at $683 per credit for in-state students and slightly higher, after scholarships, for out-of-state students. Find more information on our Juris Master Online Tuition page.
► Flexible and Customizable – Take the number of courses that makes sense for your schedule. Students have the flexibility to take the number of courses that works best for them each semester. Additionally, students can select courses from other concentrations, tailoring their curriculum to meet their own professional and personal goals.
► Outstanding Faculty – Engage in courses taught by the same world-class professors who teach on campus, coupled with prominent industry experts.
► Professional Networking – Interact with alumni, potential employers, faculty members and fellow students in virtual engagement and professional development opportunities.
► Academic Resources – Access online research databases and other resources available to on-campus students. 
► Career Services – Launch or advance a career with support from a full-service career center.
---
If you have questions and would like to speak with a member of the Juris Master Program team, please contact us at jmadmissions@law.fsu.edu or 850.644.7591.