University Center Club, Tallahassee, FL
February 24, 2020
 
Inaugural Amelia Rea Maguire Business Law Lecture: Defining Your Value in the Digital Age
At the 2020 Amelia Rea Maguire Business Law Lecture, we welcomed Bob Rice, a 1979 alumnus of the FSU College of Law, as our featured speaker.
In an era of big data and artificial intelligence, routine management decisions and basic legal functions become ever more prey to automation. And as all information becomes free and readily available, the "knowledge broker" element of professional advantage is evaporating.
So how can executives and lawyers maintain their leading roles as economic contributors over the next decades? In a spirited presentation based on real-world examples, Rice shows why and how those who embrace and prepare for the new reality will indeed be able to deliver unique and crucial value in a hyperdynamic digital economy – while those who don't, won't. 
This event was co-sponsored by the FSU College of Law and FSU College of Business.  
 
---
                                     Featured Speaker, Bob Rice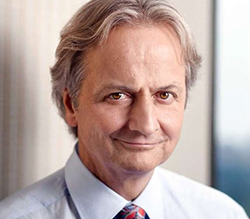 Bob Rice's career spans law, technology and business. After FSU, he was a trial lawyer for the Department of Justice and a partner at Milbank, Tweed; founded a tech startup and was the CEO of its publicly-traded successor; and now runs a New York broker-dealer and consultancy specializing in private securities. He's the best-selling author of two books; a former on-air contributing editor for Bloomberg TV and Fox Business; and is a popular keynoter at financial industry events.
---
Amelia (Mel) Rea Maguire ('86) is a former partner of Holland & Knight and now president of Rea International, an international business advisory firm. She has more than 31 years of both private and public experience spanning international trade, corporate finance and economic development. The business law lecture series was created to bring high-level business practitioners and lawyers to the FSU community to share their experiences and insights.