FSU Law Real Estate Program
---
This event has been postponed to a date to be announced soon!
TRANSFORMING FLORIDA:




TRANSIT-ORIENTED DEVELOPMENT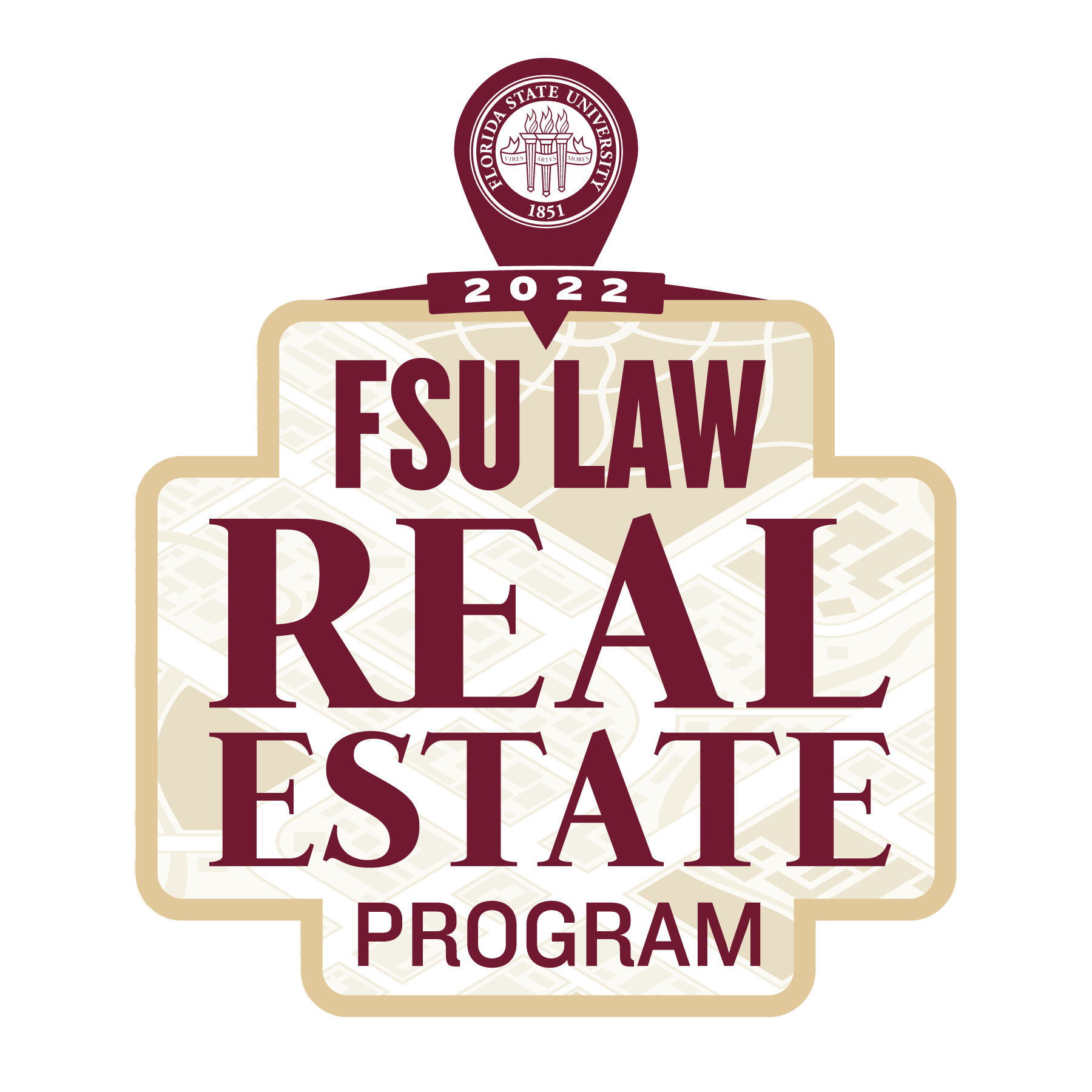 This one-day conference will feature experts who are at the forefront of the transit-oriented development (TOD) that is transforming Florida. Speakers include leaders of Brightline Trains, the chief economist for the Florida Chamber Foundation, transportation leadership from Central Florida and Miami-Dade County, attorneys, developers, other transportation executives and directors, and academics who are working on projects reshaping our state.

​
---
TOPICS
The following topics are listed in order as they will occur on the day of the program. 
Miami-Dade County – the Long and Winding Rail
Miami Dade County Commissioner Eileen Higgins and the land development team from Stearns Weaver Miller will present a case study of development along Miami-Dade County's rail system. Using GIS data, speakers will provide invaluable perspectives on the obstacles faced and the successes achieved over the past four decades and explain why land use policies and potential incentives should be prioritized in tandem with the siting of transit to ensure the best outcome.    
A View from the Top
Brightline's leadership will discuss their company's progress in developing, financing, building, and operating the first privately owned passenger rail system in the U.S. in decades, its present operations, and the company's future plans. They will also discuss the company's major investment in TOD in Miami and the development of non-company TOD benefiting from Brightline stations. Leadership of the South Florida Regional Transportation Authority will also present the current status of Tri-Rail operations and stations and their plans to connect to other systems.
The Big Picture
Dr. Jerry Parrish, chief economist at the Florida Chamber of Commerce Foundation will be our lunch speaker, addressing trends in Florida's residential and commercial development and the direction of future transit-oriented development in the state.
Central Florida—Moving on Up (the State)
The transportation leadership in Central Florida communities and developers who have actually built projects along the transit lines in the City of Orlando and other parts of Central Florida will present on the historic and current rail systems operating in Central Florida and how they were financed. They will also discuss the successes and challenges in the development process and plans for future development in Central Florida.
Deseret Ranch—The Future is Now
Don Whyte, Chris Sinclair, and Karl Pischke—the legal and planning team for the initial phase of Deseret Ranch (300,000 acres in Osceola, Orange and Brevard Counties)—will discuss how they are developing a community that is unburdened by workarounds from existing development. They will talk about how this unique project is intended to address TOD reflecting current attitudes toward access to light rail. 
Connecting It All
Finally, leading planning professors and academics will summarize what has been presented for the day, and identify urban areas in Florida likely to follow the examples that currently exist. They will also discuss the cultural and sociological patterns that affect decisions to live and work within a radius from a rail station, including choked roads and streets, Uber and the popularity of electric scooters to make the first and last mile work.
---
FREE RIDES ON BRIGHTLINE
Since the conference is a few blocks from Brightline's West Palm Beach station, conference attendees should consider relaxing on their way to and from the event by taking advantage of a free ride on a Brightline train.
Check back soon for instructions to acquire your free ticket.

---
CONFERENCE COMMITTEE
Special thanks to the following committee members who were instrumental in the planning of this conference.
---
Special Accommodations: Please email Florida State University College of Law at gthornton@law.fsu.edu for assistance with any special dietary or access needs.
Please Read: Registration Terms and Conditions
Cancellation and Refund Policy
Cancellation of a meeting registration does not constitute cancellation of a hotel room. Please be sure to handle both separately.
Verbal requests for refunds will not be accepted; all requests for refunds must be made in writing to: register@capd.fsu.edu
Registration may be switched from digital to in-person at any time at no additional cost other than the difference in fees.
Written cancellation and refund requests received ON OR BEFORE MAY 6, 2022: FULL REFUND MINUS AN $18 PROCESSING FEE.
Written cancellation and refund requests received AFTER MAY 6, 2022: NO REFUND WILL BE GIVEN.
Meeting Guidelines
Persons with Disabilities
Florida State University College of Law makes every effort to ensure all content is accessible to person with disabilities. If you have an American Disabilities Act (ADA) need — audio or visual — please indicate so during the registration process. We will contact you for additional information.
Photography
Florida State University College of Law reserves the right to capture and broadcast digital media content in the form of professional photographs, live-streaming, audio, and video during the real estate law program. By registering for the program, you hereby grant permission to Florida State University College of Law and its representatives to photograph and/or record you during the in-person and virtual events at the real estate law program, and to distribute, broadcast, use, or otherwise globally disseminate, in perpetuity, such media without any further approval or payment.
Liability Waiver
By registering for the 2022 real estate law program, participants agree to the following Florida State University College of Law Liability Waiver and Assumption of Risk:
Florida State University College of Law Registration Liability Waiver and Assumption of Risk
Attendee understands that participation in the real estate law program is entirely voluntary and requires attendees to abide by any applicable rules of conduct or local or state laws that may be announced at any time during the Florida State University College of Law real estate law program. In consideration of the right to attend the Florida State University College of Law real estate law program, Attendee assumes all risks and accepts sole responsibility for any injury (including, but not limited to, personal injury, disability, and death), illness, damage, loss, claim, liability, or expense, of any kind, that attendee may experience or incur in connection with attending the Florida State University College of Law real estate law program. While Florida State University College of Law is the convener of the meeting, Attendee understands and acknowledge that Florida State University College of Law has no direct control over and is not responsible for the acts or omissions of any meeting venue personnel or others involved in producing this event, or any other attendees at the meeting. Attendee has carefully considered the risk involved and hereby releases, covenants not to sue, discharges, and holds harmless Florida State University College of Law, its leadership, boards, officers, directors, employees, agents, and representatives, of and from any such claims, including all liabilities, claims, actions, damages, costs, or expenses of any kind (including reasonable attorney's fees) arising out of or relating thereto.