Bruce ('93) and Wendy ('93) Wiener
---
Bruce and Wendy Wiener: All Roads Lead to Giving Back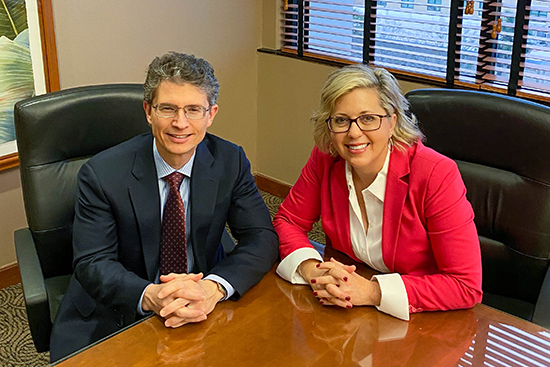 What happens when a meandering road and a straight line cross paths in the library during 1L year of law school?
For Wendy and Bruce Wiener, both Class of 1993, their library meeting during a legal writing research project—when they needed the same casebook—sparked a connection ultimately leading to their wedding during winter break of their 3L year. Nearly 30 years later, the Wieners, still in Tallahassee, are connected leaders in their community—mentoring young lawyers and setting examples for successful law careers.
Wendy's road to lawyering was winding. She started undergrad at the University of South Florida as a voice major and bounced through six majors before graduating with a broadcast journalism degree. Realizing what she needed was a profession, she took the LSAT on a whim and decided to go to law school. Her dad had always wanted her to be a real estate lawyer. (Instead, her father got his wish through his son-in-law.) When Wendy entered law school in 1990, the nation had just celebrated the 20th anniversary of Earth Day, and Wendy, inspired by the mood of the day and focused on the environment, thought she would specialize in environmental law.
Bruce, on the other hand, was on a straight path directly in line with his goal. "I really always planned to go to law school," he said. At Leon High School in Tallahassee, Bruce participated in student government. After attending undergrad as a political science major at Vanderbilt University in Nashville, Bruce's goal was to return to Tallahassee and practice law. Although he applied to several law schools, everything led him back to Tallahassee and FSU.
"I started thinking about the opportunities here, the Capitol, the legislature and state government, and it made more and more sense," he said.
Bruce initially planned for a career in politics, government or elected office. During law school, he was a legislative intern and worked for a committee that focused on local bills and growth management laws. Bruce said it was an exciting time, particularly during session, and he learned a lot about land use and the legislative process. Through a clerkship that followed, Bruce stayed connected to growth management and land use.
Professor Lawrence Krieger helped Bruce create an externship at 1000 Friends of Florida, which differed from the work he had been doing. 1000 Friends of Florida is a leading public interest growth advocacy organization.
"I thought it would be good, from a political perspective, to learn about the legislative process, and the public interest side and the private sector side in order to gain a working knowledge of the competing growth management interests," said Bruce. 
After his externship experience, Bruce clerked for the firm at which he would spend the next 22 years. He turned his focus away from politics and began work exclusively in real estate and land use with lawyers well known in the fields, Charles Gardner ('74), Mike Bist and Jim Shelfer, who not only educated him on the practice of law, but also instilled the value of mentorship. A year or so out of law school, Bruce had the opportunity to represent the developer of a local apartment community. The work involved land use issues, environmental issues, litigation and transactions. The project solidified his desire to be part of a real estate transactional and development team.
A significant event in Bruce's career occurred in 2000, when he and a partner interviewed in Jacksonville with The St. Joe Company, then the largest landowner in Florida. The company was looking for transactional lawyers in the Tallahassee area as it was building a land division to market and sell its acreage and other divisions to develop, market and sell residential and commercial properties. Soon, St. Joe asked Bruce to work on a transaction and the work kept coming.
"For many years, my team helped them close transactions throughout North Florida. The experience was one of the most transformative I've ever been through," said Bruce. "The work we did for the client solidified the reputation of my team to deliver quality real estate work. It gave us opportunities to deal with significant clients and significant matters. I look back with awe."
Now managing partner at Nelson Mullins' Tallahassee office, Bruce's practice continues to focus on transactional real estate law, commercial lending and land use. He represents buyers and sellers in the purchase and sale of commercial, office, multifamily, student housing, acreage and timberland property. His practice also includes representing lenders in all facets of commercial mortgage lending. In the spirit of his early career, Bruce provides mentorship to young lawyers and is particularly proud of the many accomplishments of his former and current associates.
After her first year of law school, Wendy began as a clerk at Mang, Rett and Collette. Doug Mang, managing partner and an owner of the firm, was a regulatory insurance lawyer. Some of the insurance interests he represented were those that sold insurance to fund preneed funeral agreements. Wendy continued working with him after graduation and over time, made connections and developed relationships in the deathcare industry.
"For the last 15 years, all I've done is represent deathcare," she said. "I represent funeral homes, cemeteries, their owners, their operators, the individuals that are licensed there, as well as a handful of the financial institutions that hold the trust funds and most of the insurance companies that are in the space. I am also general counsel for the largest recordkeeper for deathcare trusts in the industry, called Funeral Services, Inc."
In 2009, Wendy left the boutique firm setting and joined Bruce at Gardner, Bist, Wiener, Wadsworth & Bowden, bringing her deathcare clients along with her. They practiced together there until 2015 when they transitioned to Broad and Cassel, now known as Nelson Mullins. At the end of 2019, Wendy separated from Nelson Mullins and on January 1, 2020, she opened her own practice, WRW Legal, again with her clients in tow. Having reestablished a boutique practice, Wendy continues to work closely with the lawyers at Nelson Mullins who support her deathcare clients. Bruce's team regularly handles the real estate transactions for her clients.
Bruce commented on Wendy's career trajectory, "I often read articles and participate in discussions regarding how to create more diversity in the practice of law. In particular, women with clients loyal to them that can be relocated from one firm to another are sought after. I believe Wendy's practice is an example of how it can be done."
Wendy explained further, "There are not as many women lawyers who have books of business of their own as would be ideal. Often it seems that women come out of law school and they get the great job and the men get the great job and then as soon as the women pull back from the workforce, even a little bit, then it's the men that go to the meetings, and the men that meet the clients, and the men that make the relationships. So, by the time the women come back to the workforce in a more complete way, then a lot of that relationship building has been done and so now the women are doing the work for the clients that their male colleagues have brought into the firm."
Wendy said she was fortunate because her first boss, and later partner, taught her how to get a client and keep that client, even during the time she was having children and raising them. With her own practice and having developed her own book of clients, when Wendy got busy enough to need an associate, she wanted to pay it forward.
"I contacted the law school and said, 'I am looking for a woman candidate to be me later. I want to find somebody that I can bring on as a law clerk and can train and can foster and grow and let her engage with clients from the get-go and develop and learn how to do what I did and eventually take over for me.'"
The young woman she hired as a second-year law clerk is now a first-year associate with Wendy at her new practice. 
The Wieners agreed that time management is the biggest challenge in their careers. Even as empty nesters, while friends are starting new hobbies or getting projects done, the Wieners have let work fill in that available time. "Now, any spare time is consumed by visiting our kids who are far flung," said Wendy. The Wieners have two daughters, Leah, 24, a musical theatre graduate who lives in New York City, and Samantha, 21, who attends Emerson College in Boston. She is set to graduate this December. The Wieners are also community minded. Wendy has served as a member of the board of the Epilepsy Association of the Big Bend, president of Raising a Healthy Child, president of the Temple Israel Board of Trustees, chair of the Jewish Food and Cultural Festival, and co-chair for the Tallahassee Shakespeare Festival. Bruce serves on the Temple Israel Board of Trustees, The Governors Club Executive Committee, and has been a board member of Young Actors Theatre and the City of Tallahassee Chamber of Commerce, among others.
In addition, the Wieners are both members of the FSU Law Board of Visitors. Through the years, Wendy has coached FSU Law Moot Court teams and Bruce has been a guest lecturer, but they wanted to do more. In 2010, they established the Bruce and Wendy Wiener Endowed Scholarship, another way of giving back to the school to which they attribute so much of their success. Wendy would never have envisioned a career practicing regulatory deathcare law and Bruce's career path may have branched slightly from its original course, but both are thankful for the opportunities they have had and feel driven to pay it back by helping FSU Law and young lawyers find their unique roads to success.
"FSU Law is the foundation for our careers and our mentorship. We want to give the law school as much support as we are able."
As printed in the 2020 issue of Florida State Law magazine.