Celebrating 50 Years of FSU Law
---
Celebrating 50 Years of FSU Law
Full-Width Featured Image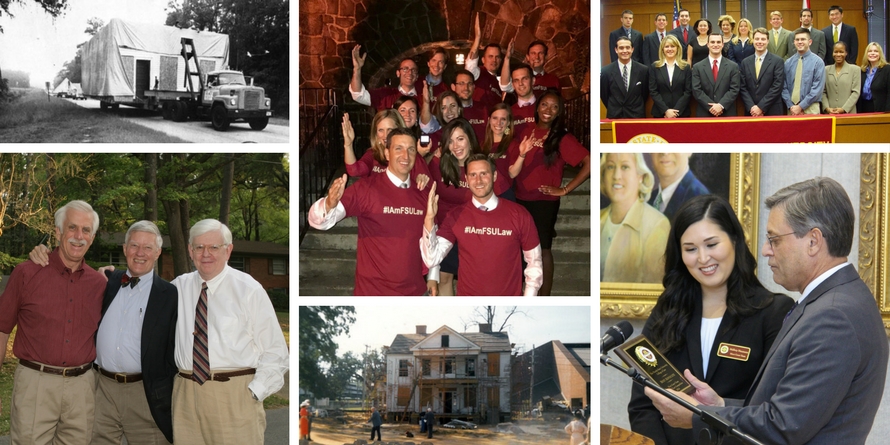 When the FSU College of Law welcomed its first students during the fall of 1966, the law school occupied part of Longmire Hall in the middle of campus. The space was graciously provided by the FSU Alumni Association and included offices, the law library and a shared auditorium where all of the law classes were taught. During the next 50 years, the College of Law's physical plant transformed.
Now comprised of eight buildings that occupy two full city blocks, the law school has expanded along with its faculty, student body and offerings. As the College of Law changed, its national reputation improved. 
In just half a century, Florida State Law transformed from a law school struggling to attract faculty and top students into one of the nation's top 50 law schools. When we opened our doors in 1966, the administration consisted of Dean Mason Ladd and Assistant Dean Ron Anderson. We also had a teaching faculty of three: Professors Dave Dickson, Pete Millett and Ray Phillips. Each professor taught two of the first-year courses. The following year, law school legend Chuck Ehrhardt and two more professors joined the faculty. Ehrhardt is still on campus today, along with many more professors who have joined FSU because of the faculty's outstanding national reputation. FSU is now known for having one of the country's most productive and widely cited faculties, therefore higher ranked law schools routinely try to hire away Florida State's law professors.
During the past 50 years, the credentials of our students have increased, as has the diversity of our student body. The first students at FSU Law were groundbreakers. They paved the way for all of the students who would come after them and created a culture that has endured, working together instead of at odds with each other. Some members of the first classes at the law school have joked that they would not be admitted to FSU Law if they were applying today. Still, the foundation they helped create has resulted in our most recent incoming classes consistently having some of the best credentials in the state. Recent incoming classes also include many more females and minorities than the early classes. The most recent incoming class was 51% female, compared to 3% in 1966.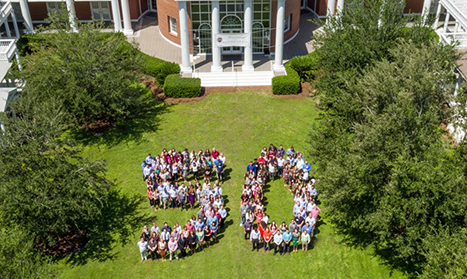 Our first students all enrolled in the Juris Doctor program. Eventually, certificates in international law, environmental law and business law were added, allowing students to specialize their course of study. In 2005, we welcomed our first LL.M. in American Law students – lawyers from other nations who wanted a one-year degree in U.S. law. Today, domestic and international lawyers can also earn advanced LL.M. degrees in environmental law and business law. In 2014, the law school introduced a Juris Master program, designed for working professionals who want to advance their careers and to learn about important legal, business and regulatory issues, but not practice law. This fall, in response to the market, the law school will launch an online version of that master's program.
Many of our first students came to Florida State because of its location in the capital city. The first classes included students who already had established political careers and others who wanted to become involved in government and politics. Today, FSU Law students still take advantage of our close proximity to the Capitol building, state agencies and hundreds of law firms in downtown Tallahassee. Since the launch of our externship program in 1980, students have been able to earn credit by working at courts and at many of the government offices that attracted them to Florida State. In more recent years, student externs have also worked outside of Tallahassee, including at international placements. Most recently, corporate externships were added to the available placements – many of which are at companies where law school alumni work. Our clinics have also grown and the work students are doing through them is more sophisticated than ever. Through our Public Interest Law Center – which is comprised of our Children's Advocacy Clinic and the Family Law Clinic – students have been representing live clients since 1991. We established a Business Law Clinic in 2014 to teach students how to be effective, creative transactional lawyers. 
What has not changed dramatically since our doors first opened are the camaraderie and culture at the law school. Just like their counterparts today, members of the first several classes recall a close-knit student body that formed strong bonds among themselves and with professors. The culture of the school, and the excellence of our students, has resulted in award-winning advocacy programs and student organizations throughout the law school's history.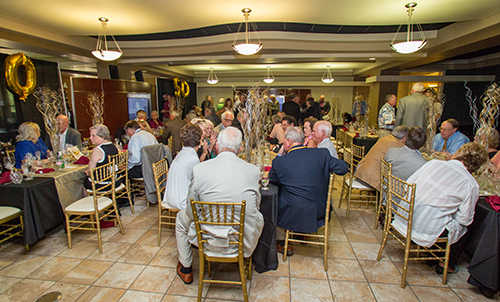 Much of what the law school has accomplished is also attributable to Dean Emeritus and Alumni Centennial Professor Donald J. Weidner. An indefatigable visionary, Weidner instituted many of our programmatic changes and transformed the faculty by introducing the concept of merit into their pay structure. 
When Weidner retired as dean in 2016 and Erin O'Connor became our eighth dean, we celebrated another milestone – our first female dean. During her time as dean, O'Connor has embraced the celebration of our 50th anniversary, wanting to hear as many stories from alumni as possible about what they love about the law school. At the same time, she is making plans to propel FSU Law forward as we begin our next 50 years. 
Timeline
1966 – Law school welcomes first students, Mason Ladd is first dean
1968 – College of Law receives preliminary ABA accreditation
1968 – Moot Court Team established
1969 – Joshua M. Morse becomes second dean
1970 – Pat Dore joins faculty as the first female member
1972 – Florida State University Law Review founded
1971 – Move from Longmire to present classroom building
1973 – Inaugural Summer Program in Law at Oxford
1980 – L. Orin Slagle becomes third dean and Externship Program begins
1982 – Break ground on new library facility
1983 – Inaugural issue of the Journal of Land Use & Environmental Law
1984 – Talbot "Sandy" D'Alemberte becomes fourth dean
1986 – The Sarah Payne Cawthon House and Johnson-Caldwell House arrive on the College of Law James Harold Thompson Green
1988 – The Damon House and Stanley-Ausley House arrive on the Green and the Rotunda is completed
1989 – Sheldon F. Kurtz named fifth dean
1991 – Donald J. "Don" Weidner becomes sixth dean, Public Interest Law Center established and Journal of Transnational Law & Policyfounded
1992 – Donald J. Weidner Summer for Undergraduates Program begins
1995 – Trial Team founded
1997 – Paul A. LeBel becomes seventh dean
1998 – Don Weidner returns as dean
2006 – Black Law Students Association wins first of many national "Chapter of the Year" awards
2008 – Student Bar Association wins first of five "SBA of the Year" awards
2010 – Study by Prof. Annino and Public Interest Law Center students cited repeatedly by the U.S. Supreme Court in a landmark decision
2011 – FSU Law breaks into the U.S. News & World Report top 50 law schools
2012 – Law school moves into Advocacy Center building, which was previously occupied by the First District Court of Appeal
2016 – Erin O'Connor becomes eighth dean and the first female dean
As printed in the 2017 issue of Florida State Law magazine.