Kareem J. Spratling ('06)
---
Kareem J. Spratling: Improving Communities Through the Law and Service
As a 2L wanting to enroll in courses that would prepare him for the bar exam, Kareem J. Spratling took State Constitutional Law with Randy Hanna ('84) at FSU Law. The adjunct professor and former managing partner of Bryant Miller Olive (BMO), who now serves as dean of FSU Panama City, encouraged Spratling to clerk at BMO the summer before his 3L year.
Now, 15 years later, Spratling is a shareholder at the firm in Tampa, where he concentrates his law practice in the area of public finance. "I tell kids that I write IOUs, but it's not quite that simple," joked Spratling about how he helps clients obtain funding for their public projects through transactional work and negotiating deals. "Governments and non-profits, for the most part, have the ability to benefit from tax-exempt bonds. They can borrow money to finance or refinance the construction of new buildings or new infrastructure, like roads or bridges, or new hospitals or new schools at a federally subsidized interest rate. So that's mainly what I do in the public finance area, and then I have the pleasure of serving as outside general counsel to a number of clients. In that role, I use my expertise in corporate governance and do a lot of handoffs to my colleagues who are specialists in other relevant practice areas."
Spratling's extensive list of financing projects includes many in the areas of education, health care, seaports and general governmental projects such as water and sewer facilities and environmentally sensitive lands acquisition programs. In 2016, Spratling was honored for his work by The Bond Buyer magazine, which named him one of their inaugural group of 24 national "Rising Stars."
A Class of 2006 graduate, Spratling relishes how much his work impacts people and makes a difference.
"One of the fundamental prerequisites for the financings that I work on is that the projects being financed or refinanced must serve a public purpose," Spratling said.
"For example, we work on a federal program for Historically Black Colleges and Universities (HBCUs). We're able to help HBCUs access capital to finance generational projects like new medical facilities that would not have otherwise been built. I have a soft spot for the projects that directly affect young people, like educational facilities or children's hospitals. Often, we're invited to visit a facility when it is complete and it's just a magical thing to see that there was a need and you helped fill that need. It's also an amazing feeling to see major improvements to something like a seaport or an expressway come to fruition. Thinking about the economic impact of those projects gives me a great deal of pride."
As a collaborative, optimistic person, Spratling also enjoys the common purpose that typically accompanies his transactions.
"Whether I'm representing the lender or the borrower or a governmental entity that's issuing the bonds, everyone wants the transaction to close and you're all pulling in the same direction," said Spratling. "The underlying public purpose of the project is ever-present."
As of January 2020, Spratling is also a member of BMO's board of directors, and he leads a public finance team that practices nationwide and is based in the firm's Tampa, Washington, D.C. and Pensacola offices. He enjoys helping members of his team grow professionally and leads by example. Following an unwritten tenant of the firm—be nice to others—Spratling always encourages civility. "A requirement of the job is to negotiate a lot and point out where others have gotten something wrong, but you don't have to be a jerk in doing it," remarked Spratling.
Spratling primarily credits Hanna and BMO's current managing shareholder, Grace Dunlap, with showing him how to "be a smart and very prepared lawyer in a nice way."
In addition to his work on behalf of clients, Spratling is very involved in the National Association of Bond Lawyers. He chaired the group's Diversity Committee for two years, working to elevate diversity and inclusion within his practice area. After serving as chair, he also created and for three years led a panel about diversity and implicit bias at the association's main academic workshop.
Locally, Spratling served on the board and executive committee of the Greater Tampa Chamber of Commerce (now the Tampa Bay Chamber of Commerce), at one point serving as perhaps its youngest general counsel. "We were able to make our mark on the community and some of the things we did are still things the Chamber is doing."
His commitment to leadership and civic engagement go back to Spratling's days as a student at Florida State. He served as president of FSU Law's Black Law Students Association and Student Bar Association (SBA) and was the first student to serve on the Alumni Association Board of Directors.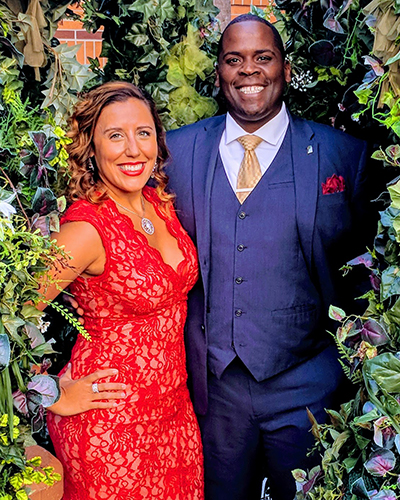 "Being a student who is working and also involved in various activities helps you manage time properly, and I still use those skills today," Spratling said. "Also, if you're an effective student leader, you learn a lot of important skills on leadership because leading students is like herding cats. The only reason they are going to do what you want them to do is because you've actually led them towards something that they believe in and they want to do it."
In addition to shaping Spratling's professional career, serving as SBA president also profoundly impacted his personal life. Spratling first met his wife, Tammy, at an American Bar Association conference. He was there representing FSU's SBA and Tammy was in attendance as president of Stetson's SBA.
"When we tell the story about meeting at the ABA conference in Chicago, Tammy and I like to call ourselves law school nerds," joked Spratling. "We like travel, we love riding our bikes, we love experiencing new things and we really enjoy giving back to the world. We're close with my classmates Jason and Jennifer Watson ('06) and we've twice coordinated European travel with them, once to Octoberfest in Munich and once for New Year's in Paris. Also, we don't have kids (other than a number of godchildren), so we try to be philanthropic as much as possible."
Tammy is executive director of Community Tampa Bay and president of Gasparilla International Film Festival, so the couple is very involved in Tampa-area civic and cultural events. They were also scheduled to host a law school reception at their home in April, which had to be canceled in light of COVID-19. A long-time supporter of FSU Law, Spratling currently serves on the law school's Board of Directors.
Spratling credits his grandparents, parents and Tammy with encouraging him throughout his life.
"My grandparents poured so much energy and positivity into me that I think they willed me into some of the success that I have had," said Spratling. "Then my parents continued to nurture that and, finally, Tammy and I are constantly pushing each other to do the next thing and to be better people. We want to be excellent in everything we do, whether it be at our work or to each other in our marriage or through our giving back to our community."
As printed in the 2020 issue of Florida State Law magazine.