Professor Nat Stern:
Esteemed Teacher, Mentor, and Colleague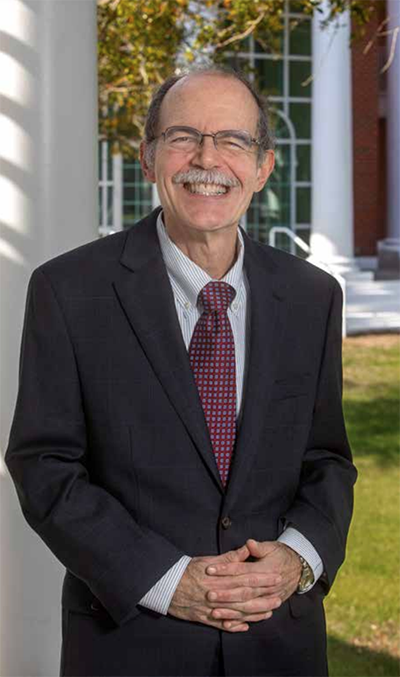 After more than four decades as a beloved professor at FSU Law, John W. & Ashley E. Frost Professor Nat Stern retired at the end of this academic year. When he interviewed to join the faculty in December 1980, Stern did not think he would end up in Tallahassee.
"To me, my coming to FSU was a happy irony because I considered my meeting with the school's appointments committee my worst interview at the Association of American Law Schools annual recruitment conference," recalled Stern. "I was surprised and thrilled when FSU invited me to interview on campus."
Over the last 41 years, Stern's contributions to the law school have been immeasurable, but they have been quantified in many ways. His popularity with students and creative teaching methods have earned him several teaching awards, he has led the Moot Court Team to numerous national championships and an eighth-place national ranking in 2021, and he has taught thousands of students, including hundreds of undergraduates during FSU Law's Donald J. Weidner Summer for Undergraduates Program. Stern also has contributed as a leader in faculty governance. He served a one-year term as associate dean for academic affairs and chaired the faculty appointments and curriculum committees several times. Stern also gave generously to the law school to create the Abraham and Rhea Stern Endowment, which funds two scholarships: the Abraham Stern Moot Court Scholarship benefits an outstanding Moot Court Team member, and the Abraham and Rhea Stern Scholarship is used to recruit a top student to the law school.
The bonds Stern formed with his students inside the classroom are undeniable. First-year students in his final Constitutional Law I class wrote a song for Stern to express their admiration and performed it during their final meeting on April 12, 2022. And when Stern's retirement was announced, former and current students by the dozens relayed their well wishes and shared fond memories of their esteemed professor. Many expressed their gratitude to Stern for positively influencing their lives and careers.
Stern found teaching extremely gratifying. "Being able to teach subjects that fascinate me to our talented, diverse, and enthusiastic students has been a highlight of my career. I've also thoroughly enjoyed getting to know many students individually outside the classroom. It's been a bonus that a number of them have maintained contact with me as alumni."
Some of Stern's most treasured student interactions have been as Moot Court advisor, a role he acquired after Professor Bill VanDercreek stepped down in 1993. Stern enjoys his Moot Court activities so much that he plans to continue advising the team after he retires.
"I've always derived a great deal of pleasure and satisfaction from working with the Team," said Stern. "Practice panels in particular afford an opportunity for extended one-on-one engagement that's rarely available in the classroom. It's the closest thing to the British tutorial experience that I've had. Also, I'd  like to continue to have regular involvement with the law school, and Moot Court strikes me as a logical vehicle for that."
While at FSU Law, Stern also gained national recognition as an expert on constitutional law and the First Amendment. He became intrigued with the topics as an undergraduate student enrolled in a Courts, Judges, and Politics class at Brown University.
"The course included materials on constitutional law that excited my interest," recalled Stern. "In law school, constitutional law was the subject about which I was most enthusiastic and for which I seemed to have the best feel."
Stern's love of teaching began when he was invited to lead two sections of the Courts, Judges, and Politics course while in his final semester at Harvard Law. "I found the experience exhilarating, and after starting practice, realized that teaching provided unique satisfaction."
In addition to making a profound impact in the classroom, Stern has made significant contributions to legal scholarship during his career. He has published extensively in constitutional law and other areas. "Like most legal academics, I've been able to write on topics of my own choosing. I've appreciated the freedom to select subjects that I find engrossing and important, and to conduct research that hopefully has contributed to my teaching and ability to advise Moot Court competitors."
As he steps away from the classroom, Stern plans to spend more time traveling with his favorite writing partner—his wife of 35 years, Karen Oehme. They plan to visit Washington, D.C. often, as their children live in the city. Their daughter, Sarah Stern, is a program manager for Latin America and the Caribbean at the International Foundation for Electoral Systems, and their son, Mark Stern, is a legal journalist covering the U.S. Supreme Court for Slate. During retirement, Stern also looks forward to catching up on reading, playing tennis, and devoting more time to watching sports.
"I take an inordinate interest in following sports," said Stern. "Fortunately, Karen is extremely indulgent of my ongoing commentary during televised games and my sharing with her stories from sports that I consider entertaining or instructive."
Reflecting on his time at FSU Law, Stern feels lucky to have counted as colleagues many wonderful professors. When he steps down from the full-time faculty, the people are what Stern will miss most.
"One of the best aspects of my career here has been being a member of a law school community that truly sees itself as such," said Stern. "The extent to which our student culture prizes mutual support, the engagement and enthusiasm of our alumni, and the faculty's shared vision of the law school's mission these are features of the school that I've heard visitors comment on for a long time. I'll most miss the daily engagement with students and being an active part of the law school's extraordinary faculty."
As printed in the 2022 issue of Florida State Law magazine.