2019 Graduation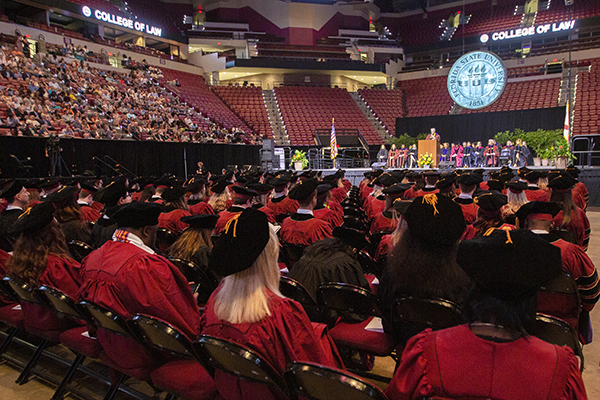 On Sunday, May 5, the 2019 commencement ceremony took place at the Donald L. Tucker Civic Center. The ceremony featured a welcome by FSU President John Thrasher, a December 1972 graduate of the law school, and a commencement speech by Florida Supreme Court Justice Ricky Polston, a 1987 graduate of FSU Law.
Polston provided advice to the new graduates by way of a humorous personal story, urging them to be careful what they agree to as it may not turn out as hoped, to think things through before taking action, and to "get a life" – have human interaction with family and friends and make time for personal development.
Graduates were then hooded and conferred their degrees in front of cheering guests. Those graduating included 147 J.D. recipients, four LL.M. recipients and 16 J.M. recipients. The J.M. recipients were the first graduates of our online Juris Master degree program and many traveled from around the country to attend graduation events. Immediately following the ceremony, graduates and their guests attended a reception at the College of Law. 
A video of the ceremony is available here. You may also view photos from the event on our Facebook page.
Published on May 14, 2019