Alumni Honored at Florida Bar Convention
---
Alumni Honored at Florida Bar Convention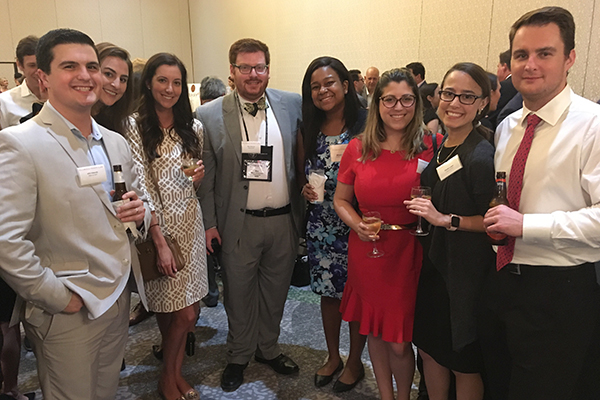 The Florida Bar's Annual Convention was held in Boca Raton in June 2019. Several FSU Law alumni received prestigious awards during the meeting. 
The Honorable Robert S. Cohen ('82) received the 2019 Claude Pepper Award from the Government Lawyer Section of The Florida Bar for exemplifying the highest ideals of dedication, professionalism and ethics in service to the public. Natasha B. Dorsey ('12) received The Florida Bar Young Lawyers Division 2019 Most Productive Board Member Award for going above and beyond in service to the YLD and for her work on the YLD Health and Wellness Committee. Manuel Farach ('86) received the 2019 Justice Anstead Board Certified Lawyer of the Year Award for his exemplary professionalism, excellence, character and commitment to The Florida Bar's certification program and to the practice of law. Melanie Griffin ('06) won The Florida Bar Solo & Small Section's 2019 Mentor of the Year Award for her remarkable achievements in the area of mentorship to younger attorneys and/or law students. Joseline Jean-Louis Hardrick ('09) received The Florida Bar Young Lawyers Division's 2019 Diversity Award for her work to promote diversity in the profession and for encouraging more gender, racial, ethnic, religious or other minority participation in law schools and the practice of law. The Honorable Claudia R. Isom ('75) was honored by the Florida Association for Women Lawyers with the 2018-2019 Rosemary Barkett Outstanding Achievement Award for, among other things, outstanding career achievement that charts new territory in the legal profession and advancing the status of women. Alexandra H. Palermo ('12) received The Florida Bar Young Lawyers Division's 2019 Kathy Bishop Most Distinguished Board Member Award for her dedication and involvement in community and law-related activities. Stephen R. Senn ('89) was recognized with The Florida Bar Foundation's 2019 President's Award for Excellence for his steady and dependable leadership and his willingness to go above and beyond his duties to ensure seamless transitions. Robert C. Volpe ('15) was presented with The Florida Bar Environmental and Land Use Law Section's 2019 Stephens/Register Memorial Award for his exceptional contributions of time and talent to the section. Harriet Williams ('88) received the 2019 Alberto Romero Making a Difference Award from the Family Law Section of The Florida Bar for providing outstanding pro bono services, engaging in significant volunteer community activities that improve the lives of Florida's children and families, and encouraging other section members to volunteer.
Also at The Florida Bar meeting, FSU Law Associate Dean Nancy Benavides received the 2019 Law Faculty/Administrator Professionalism Award, which is presented to a law school professor or administrator who best supports or exemplifies the mission of the Standing Committee on Professionalism. In addition, The Florida Bar Foundation recognized our Public Interest Law Center for its work on behalf of child human trafficking victims as first-runner-up for the 2019 Paul Doyle Children's Advocacy Award.
Hundreds of FSU Law graduates attended the convention, many of whom also attended the law school's annual alumni association board meeting and alumni reception. At the reception, alumni Florida Bar members were recognized for 50 years of dedication to the practice of law. The following Class of 1969 alumni attained their golden anniversary of admittance to The Florida Bar in 2019:
The Honorable C. Jeffery Arnold
The Honorable Nelson E. Bailey
Stephen W. Buckley
R. Edward Campbell
Stephen C. Cheeseman
Alfred W. Clark, Jr.
John W. Conness
Albert T. Cooper, III
J. Riley Davis
Robert C. Dean
John R. Dowd, Sr.
Lyman T. Fletcher
Fernando F. Freire
John W. Frost, II
The Honorable Nicholas P. Geeker
W. Walter Grace, Jr.
Donald B. Hadsock
H. Lawrence Hardy
R. Craig Hemphill
Jonathan D. Kaney, Jr.
J. Eugene Kelley, Jr.
James M. Landis
William F. Langston
Thomas L. LaSalle
William R. Lyle, Jr.
Richard A. McClain
James N. McConnaughhay
John A. Miller
Ronald A. Mowrey
David G. Mulock
W. Robert Olive, Jr.
James I. Ridley
John E. Roberts
Terrence J. Russell
Stephen J. Schultz
J. Michael Shea
James H. Thompson
James J. Traviss
Diane D. Tremor
Charles R. Trulock, Jr.
Stephen G. Watts
Barry S. Webber
Jon S. Wheeler
David Luther Woodward
 
Published on July 18, 2019