BLSA Hosts Expert Panel on Incarceration
---
BLSA Hosts Expert Panel on Incarceration
Press Date
March 19, 2021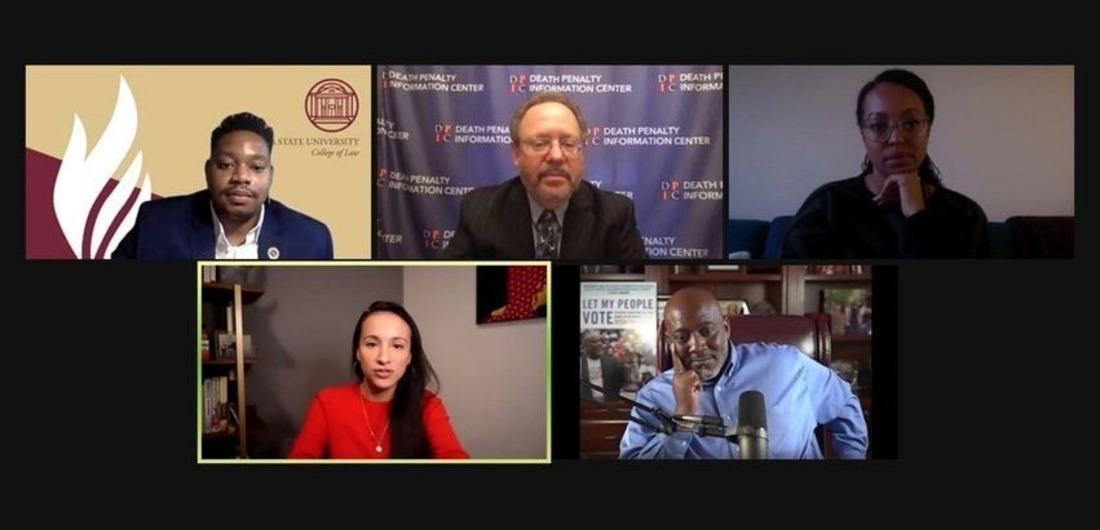 On March 4, the Black Law Students Association hosted an "Understanding Mass Incarceration: Modern Criminal Justice Reform Movement" panel, another installment in their racial justice panel series. Panelists included Robert Dunham, executive director of the Death Penalty Information Center; Nicole Lewis, staff writer for The Marshall Project; Desmond Meade, executive director of the Florida Rights Restoration Coalition; and Bianca Tylek, executive director of Worth Rises. The panel was moderated by third-year FSU law student Rashad Simon, a member of the Big Bend AFTER Reentry Coalition board of directors.
When defining mass incarceration and discussing the disproportional effects on the Black community, Meade described the need to change the underlying narrative that some people are less valuable than others. "And that narrative does two things that I think are so important in all of our conversations, that we've got to keep in the back of our minds—that narrative first of all desensitizes folks to the plight of others and the other thing it does is dehumanizes the subject of the narrative," said Meade. "That's the same narrative that you've seen throughout the history of this country."
In a later discussion about the detriment of solitary confinement, Dunham called it a terrible combination of helplessness, hopelessness and complete isolation. "This is not the way that human beings are designed to thrive, to exist, and so we see all kinds of impacts from cognitive issues, to stress, to overall, incarcerated people tend to have more chronic health issues," added Lewis. "These are not coincidences; these are features of the system itself. The impact is huge. It is in some cases irreversible."
The panel also discussed public perception, the power of language, the abuse of private profits, victims' needs and the future of the criminal justice system. A recording of the entire conversation is available online.
Published on March 19, 2021