Business Law Clinic Students Present to FSU Student-Athletes
---
Business Law Clinic Students Present to FSU Student-Athletes
Press Date
November 5, 2021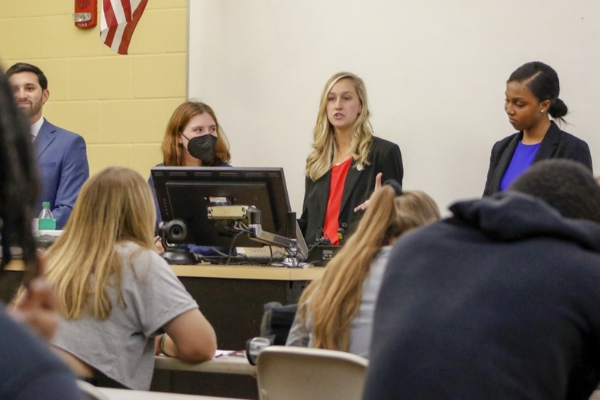 In October, students in FSU Law's Business Law Clinic made timely educational presentations on name, image, and likeness endorsements to FSU student-athletes in their Student Development & Leadership classes. The presentations allowed law students to educate student-athletes on their general rights and responsibilities under a Florida statute and NCAA new policy that took effect in July allowing college athletes to benefit from the use of their name, image, and likeness (NIL). The presentations focused on basic information athletes should consider before entering a contract under the NIL rules and used case studies to enforce concepts.
"The educational presentation provided a dual opportunity," said 3L Destinee Campbell, who presented to the student-athletes. "First, the other student counselors and I were able to discover and research a brand-new sector of law: collegiate athlete compensation for name, image, and likeness. Second, we were able to educate Florida State's student-athletes on their best interests and give them information on how to contact the clinic if they need representation or general assistance with NIL deals. We look forward to working with and representing athletes in the future and are grateful for the opportunity through the Business Law Clinic."
Students in the Business Law Clinic learn transactional skills while helping advise business and social entrepreneurs within the Florida State University community, so they are uniquely qualified to educate student-athletes on these contract opportunities. The clinical students receive training in basic bargaining, drafting, risk-assessment, and legal ethics skills that are necessary to be effective, creative transactional lawyers.
Published on November 5, 2021