Delaware Governor Jack Markell to Speak At FSU College of Law
---
Delaware Governor Jack Markell to Speak At FSU College of Law
Press Date
February 8, 2016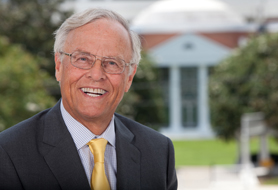 TALLAHASSEE — Delaware Governor Jack Markell will visit the Florida State University College of Law on Friday, February 12. During his visit, Governor Markell will meet with faculty members and students, and give a public talk at lunch. 
"It is an honor to have Governor Markell at our law school to meet with our faculty and students," said Dean Donald J. Weidner. "I look forward to hearing his thoughts on positioning a state for prosperity in a rapidly changing economy."
Currently serving a second term, Governor Markell was first elected to lead Delaware in 2008. During his tenure, according to Gallup, Delaware has transformed "from one of the lowest-ranking states (in terms of job creation) in 2008 and 2009 to one of the top-ranking in 2013 and 2014." Since Markell took office, companies including JPMorgan Chase, Capital One and Sallie Mae have relocated to or expanded their operations in Delaware. Markell's efforts to attract employers have included improving Delaware's schools and its workforce development system.