Federal Judge Wendy Berger Visit
---
Federal Judge Wendy Berger Visit
Press Date
February 24, 2023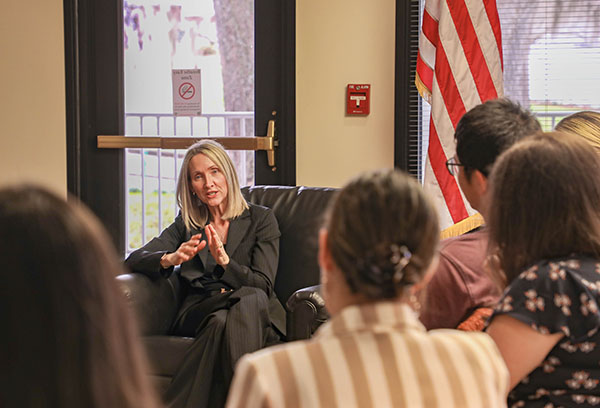 On Tuesday, February 21, we hosted the Honorable Wendy Berger ('93), of the United States District Court for the Middle District of Florida, through our Jurist in Residence Program. During her visit to campus, Judge Berger met with students for coffee and lunch, and with faculty members on our Judicial Clerkship Committee. She also participated in Professor Chuck Ehrhardt's Evidence class, where she made remarks on the value of taking a course in evidence and answered questions. During her visit, Judge Berger talked to students about a wide variety of topics, including the importance of professionalism and being kind, the application of Daubert in federal court, taking career risks, her career path, and characteristics judges look for when interviewing clerkship applicants. During her lunch remarks, Judge Berger commented about reputation being the single most important asset for a lawyer.
Judge Berger joined the U.S. District Court for the Middle District of Florida on August 1, 2019. Prior to her service on the federal district court, Judge Berger served as a district judge on Florida's Fifth District Court of Appeal from 2012-2019, and as a circuit judge in Florida's Seventh Judicial Circuit from 2005-2012. Before joining the bench, Judge Berger was an assistant general counsel and clemency aide to Governor Jeb Bush and an assistant state attorney in the Seventh Judicial Circuit. She is actively involved in numerous community and professional organizations, and she frequently speaks on a wide variety of topics including professionalism, textualism, diversity, judicial appointments, appellate practice, extradition, the death penalty, and drug court. Judge Berger graduated from FSU Law in 1993.
We are grateful that Judge Berger spent so much time with our students and imparted valuable wisdom and advice!
Published on February 24, 2023