Florida Legislative Practice Course Offers Unique Opportunities for Students
---
Florida Legislative Practice Course Offers Unique Opportunities for Students
Press Date
January 13, 2020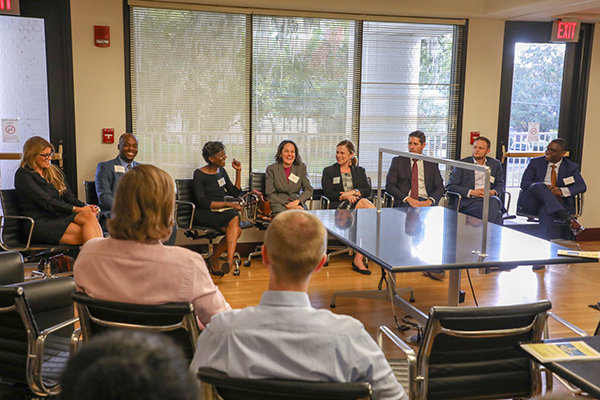 TALLAHASSEE — The FSU Law Florida Legislative Practice: From Bill Drafting to the Governor's Desk course taught by FSU College of Law Assistant Dean for Career Services and Professional Development Debra Henley ('88) is a popular course for students interested in the legislative process. Students are able to serve on "mock legislative committees" with members of the Florida Legislature and meet with high-level professionals working in the governor's office, as legislative staff, or as lobbyists in firms and associations. 
During the fall 2019 semester, the class hosted a lobbyist panel discussion and networking reception. The panel of eight included (see photo, L-R) Holly Miller Moore of TECO Energy, Jeff Branch of the Florida League of Cities, Pamela Burch Fort ('77) of The Commerce Group, Aimee Diaz Lyon ('99) of Metz, Husband & Daughton, Abigail L. Vail ('06) of the Florida Department of Financial Services, Chris Schoonover ('09) of Capital City Consulting, Derek Silver (Dec. '19) of the Florida Office of Insurance Regulation, and Darrick D. McGhee, Sr., of Johnson and Blanton.  
The class concluded with four legislative committee hearings, where students presented the bills they drafted and fellow classmates provided testimony for or against the bills. Legislators participating were Representative Javier Fernandez (House District 114), Representative Elizabeth Anne Fetterhoff (House District 26), Representative Mike Gottlieb (House District 98), Representative J.W. Grant, chair of the Criminal Justice Subcommittee (House District 64), Minority Leader Evan Jenne (House District 99) and Representative Amber Mariano (House District 36). 
Students in the spring 2019 course had the opportunity to visit the Senate Chamber to hear from Senate President Bill Galvano (Senate District 21) about his leadership style and role in ensuring the process runs smoothly while working successfully with the House and governor's office. This course is one example of the advantages of FSU Law's capital city location, which allows us to offer in-depth classes on the legislative process, executive power, and political, administrative and election law, taught by and featuring top professionals in government and politics.