FSU Law Review D'Alemberte Tribute Issue
---
FSU Law Review D'Alemberte Tribute Issue
Press Date
October 16, 2020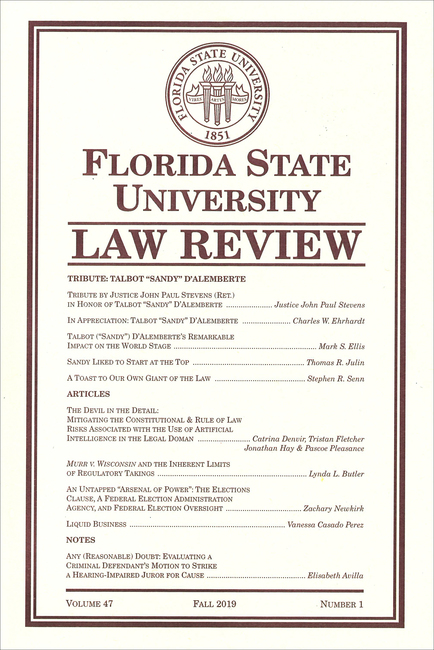 The current issue of the Florida State University Law Review (volume 47, issue 1) is in tribute to FSU President Emeritus, Dean Emeritus and Professor Talbot "Sandy" D'Alemberte, who died in May 2019. It is available online at https://ir.law.fsu.edu/lr/ and includes tribute articles from retired U.S. Supreme Court Justice John Paul Stevens, FSU Law Professor Emeritus Charles W. Ehrhardt, Mark S. Ellis ('84), Thomas R. Julin and Stephen R. Senn ('89).
"When Sandy ran successfully for the Florida House of Representatives in the late 1960s, his campaign slogan was 'Remember the Name that's Hard to Remember,'" wrote Ehrhardt in his Law Review article. "As a result of the tremendous impact he made on Florida State and the State of Florida, as well as the country and far beyond, that slogan foretold his life—Sandy D'Alemberte is a name that will be long-remembered."
The Florida State University Law Review is the flagship journal of the Florida State University College of Law. It is staffed and edited by second- and third-year law students and published four times per year.
Published on October 16, 2020