Homecoming 2018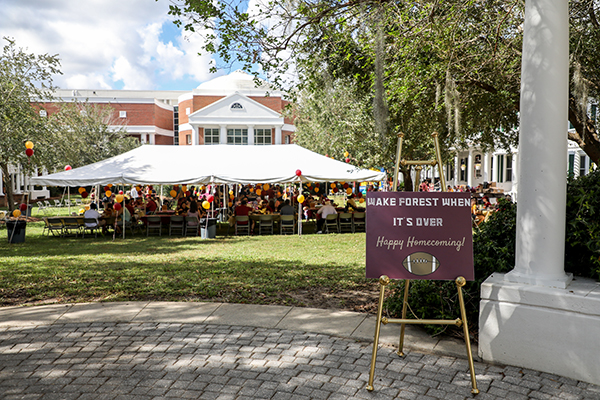 It was wonderful to see our alumni in October when we celebrated Homecoming 2018. Thank you to all of our alumni, students and friends who joined us for the Friday night reception, the alumni board meeting, the tailgate before the FSU v. Wake Forest football game and class reunion events.
We honored several alumni award recipients during the festivities. Bob Kerrigan ('71) received the Distinguished Alum Award, which recognizes a graduate who is distinguished professionally and who has rendered outstanding service to the community and to our College of Law. Carol Gregg ('74) received our Alumni Association Service Award, which is presented to a graduate who has rendered distinguished service to FSU Law over an extended period of time. Professor Elwin Griffith was honored posthumously with the Class of '66 Award, which is presented to a non-alumnus who has rendered distinguished service to our law school and to the community. We also posthumously honored Kristine Knab ('78) with our first annual Exemplary Public Service Career Award for demonstrating exceptional character, integrity, humility, professionalism and the highest regard for ethics during her career. In addition, Gene Stearns ('72) was honored by the FSU Alumni Association during Homecoming as a Grad Made Good. The award recognizes alumni who have made a significant difference through outstanding success in their chosen fields.
Thank you to everyone who helped us honor our extraordinary award recipients! You can view a selection of photos from our Homecoming events on Facebook.