Professor Abbott Speaks in Beijing and at Harvard Law, Appointed to IP Journal Board
---
Professor Abbott Speaks in Beijing and at Harvard Law, Appointed to IP Journal Board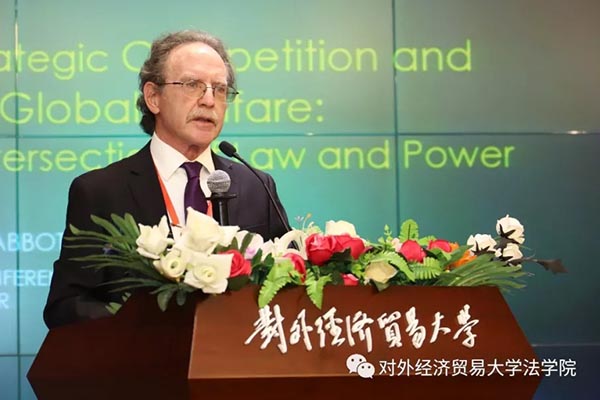 Frederick M. Abbott, the FSU Law Edward Ball Eminent Scholar, is having a busy fall semester. On September 26, he spoke in Beijing at an international conference, "A Changing International Economic Order and the Response from International Law." Participants included former members of the World Trade Organization (WTO) Appellate Body, officials from the Chinese Ministry of Commerce, leaders in China's international economic law community, and academics. Abbott presented "TRIPS, Strategic Competition and Global Welfare: Intellectual Property at the Intersection of Law and Power," on current disputes between the U.S. and China regarding protection of intellectual property and "forced" technology transfer.
Then, on September 27, Abbott spoke at an event at Harvard Law School honoring Professor Jerry Reichman, the Bunyan S. Womple Professor of Law at Duke Law. Abbott discussed his and Reichman's work on legal mechanisms for promoting equitable access to medicines, including work at the WTO and a report they prepared for the European Parliament.
Later in October Abbott will participate in the World Intellectual Property Organization (WIPO) 20 Years UDRP Conference in Geneva, having served as a WIPO dispute settlement panelist since the inception of its system. And, in early November, he will speak at a conference in Copenhagen on excessive pharmaceutical pricing and competition law.
In addition to these prestigious speaking engagements, Abbott was recently invited to serve on the editorial board of the Journal of Intellectual Property Rights (JIPR) published under the auspices of India's Ministry of Science and Technology. The bimonthly journal is a peer-review publication of the Council of Scientific & Industrial Research–National Institute of Science Communication and Information Resources (CSIR–NISCAIR) in New Delhi. "Your active participation and timely guidance to the editorial team will make the journal a better vehicle of scholarly communication," said JIPR Editor Dr. Kanika Malik in her invitation to Abbott.
Published on October 29, 2019