Stoops Center Celebrating Launch With FSU College of Law Race Car
---
Stoops Center Celebrating Launch With FSU College of Law Race Car
Press Date
October 28, 2022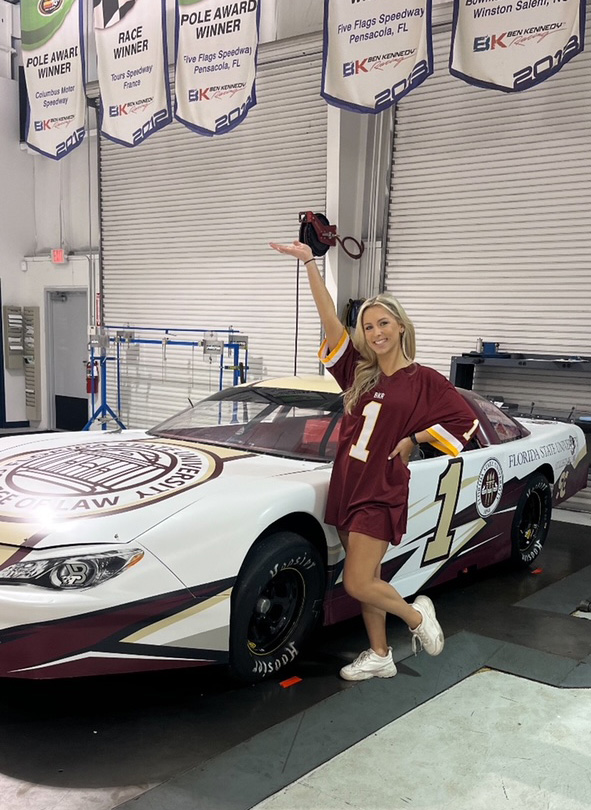 TALLAHASSEE — The FSU College of Law Stoops Center of Law and Business will launch its first online executive education courses in January, and to celebrate the launch, the New Smyrna Speedway and Ben Kennedy Racing will feature an FSU College of Law car in the January 7 Red Eye 50/50 race—the speedway's first race of the 2023 season. 
The FSU College of Law car will be driven by Logan Misuraca, a professional stock car driver in the ARCA Menards East Series, which is owned and operated by the Automobile Racing Club of America (ARCA) and the National Association for Stock Car Auto Racing (NASCAR). Ben Odom, vice president of business and legal affairs at NASCAR and a 2004 graduate of the FSU College of Law, will serve as an instructor in a new Sports Law certification that the Stoops Center will launch in the spring of 2023.
"We are excited that Logan Misuraca, who is one of the few female racers in her sport, will be driving the car featuring the FSU College of Law," said Dean Erin O'Connor. "She embodies the extraordinary and innovative spirit that we feel with the launching of the Stoops Center."
"On behalf of Ben Kennedy Racing, we are honored to partner with FSU College of Law in the unveiling of this exciting new program that will be offered to those who are interested in pursuing a career in sports law," stated Jimmy Kitchens, vice president and general manager of Ben Kennedy Racing, an ARCA Series and late model race team based out of Daytona Beach. "With the reputation and integrity of the FSU College of Law, we know that this new program will provide great opportunities for those who are pursuing their dreams."
The Stoops Center's January 2023 launch includes executive education courses taught primarily by FSU College of Law alumni whose legal practices involve highly regulated industries. The unique course offerings are components of certifications available in Alternative Investment Strategies, Employment & Human Resources Law, and Privacy Law & Policy. The courses will offer online learners a rare opportunity to learn about legal compliance directly from practicing lawyers who are experts in their fields.  
"We are fortunate to have brilliant alumni who are giving back to the FSU College of Law in this groundbreaking way," expressed Dean O'Connor.  "After graduating from the FSU College of Law, they are excelling in a variety of high profile careers throughout the country, and they are sharing their legal knowledge uniquely with learners at the Stoops Center."
Courses will be offered online and last approximately six weeks, offering flexibility for business executives who have demanding careers. In addition to sports law, certifications being launched during the spring of 2023 include courses in healthcare law, hospitality law, real estate law, and insurance regulation.
Thanks to a generous gift from Jeff and Aggie Stoops, the Stoops Center of Law and Business is establishing a groundbreaking collaborative space that brings together a diversity of perspectives from practicing lawyers and seasoned business professionals in the form of executive education and community conversation. For more information, visit stoopscolab.com.
For more information on Logan Misuraca, visit loganmisuraca.com and @loganmisuraca on Instagram.
Published on October 28, 2022