Rosalyn 'Sia' Baker-Barnes: Effecting Change
By Brittany M. Pollock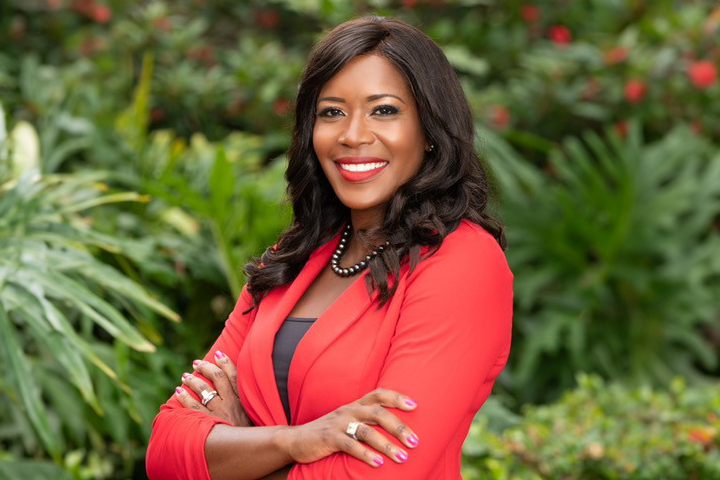 When Rosalyn 'Sia' Baker-Barnes ('00) completed her undergraduate degree in communications at Florida State University in 1996, she found herself at a crossroads. One path led to a career in sideline reporting. "I love all sports," said Baker-Barnes, "I will watch tennis, basketball, football, and soccer all day." The other path led to law school.
"I love the public arena and being an advocate," she said. Certainly, either career option would have satisfied her love of helping people tell their stories. However, after interning with a local news station's sports segment and in the communications and press office of former governor Lawton Chiles, Baker-Barnes came to realize that being a member of the media wasn't her path. "I always felt like, for me, there was something missing from the puzzle," she reflects. "I knew in my gut it wasn't for me."
A short time later, Baker-Barnes began her journey through law school. She started at Florida State University College of Law in the fall of 1997, where she participated in a variety of activities, clinics, and journals. This included becoming a finalist in the 1998 Final Four Competition where, as a first-year law student, she argued before the Florida Supreme Court. "It was terrifying but also exhilarating at the same time," recalls Baker-Barnes, "and that's when it started to click for me." 
Not long after, Baker-Barnes found a home within a job, interning at Searcy Denney Scarola Barnhart & Shipley, P.A. As a summer law clerk before her second year of law school, Baker-Barnes immediately realized she was in a special place. "If I could have a few words to describe my law firm, it's that we are a family," said Baker-Barnes, who has now been with the firm for more than two decades. "I grew up in this law firm, and my career, I think, would not be where it is today without the firm. All our partners are invested in our success." 
Baker-Barnes' success at Searcy Denney has been exponential. Not only does she have dozens of notable verdicts and settlements, with many in the millions of dollars, but during her 25 years, Baker-Barnes has climbed from summer law clerk, to associate, to shareholder. It has been here that Sia Baker-Barnes found that 'missing piece,' the ability to effect change.
"As a lawyer, I tell my clients' stories," said Baker-Barnes. "It's my job to be their voice, to be their advocate, to fight for them and, at the end of the day, hopefully make their lives better." 
Baker-Barnes also holds the titles of chairperson of the Diversity, Equity & Inclusion Committee, and executive committee member at Searcy Denney, and she has been awarded and honored numerous times throughout her career. She has been chosen for US News & World Report's The Best Lawyers in America for over 10 years in a row, received the Henry T. Latimer Diversity Award in 2022, and was selected by the F. Malcolm Cunningham, Sr. Bar Association as a "Famous Female First" for being the first African-American female president-elect of the Palm Beach County Bar Association in 2016.
Although she has built an enviable career, Baker-Barnes remains unsatisfied, but not for the reasons one might think.
"For me, especially in the roles I am in now, I try really hard to be a mentor to lawyers, especially to young women lawyers," said Baker-Barnes. "I have been lead trial lawyer on many cases, but I can certainly count on one hand the number of times my opposing counsel has been a woman. We still have a ways to go."
Using her strong connection to FSU Law, Baker-Barnes has already taken several steps toward her goal of seeing more women in the courtroom. "This year I was really excited to establish a scholarship, with the goal of encouraging women lawyers to become trial lawyers," Baker-Barnes said, "whatever their practice. I would really love to see more of us in the courtroom." Baker-Barnes is also a well-known face at the College of Law, visiting often to talk to students about her journey and experience through law school, and encouraging them to take opportunities they might not have considered for themselves. 
Baker-Barnes is also taking steps in her community to diversify the legal profession. In February of 2021, Baker-Barnes co-founded the Palm Beach County Sheree Davis Cunningham Black Women Lawyers Association, in order to support other Black women lawyers. 
Many of Baker Barnes' professional activities are tied to her numerous leadership and mentorship roles. For The Florida Bar alone, Baker-Barnes serves on the Board of Governors, is chairperson of the Legislation Committee, is board liaison for both the Annual Convention Committee and the Rules of General Practice and Judicial Administration Committee, and has served on the Executive Committee for almost four years. While she is already extremely engaged with The Florida Bar, Baker-Barnes is ready for another challenge. "I am running for president; not for individual accolades, but because I think that we, in Florida Bar leadership roles, have the ability to make our profession even better." 
Baker-Barnes' strong commitment to giving back to the community was ingrained in her as a child by her lawyer father and probation supervisor mother.
"They have always been not only very active professionally, but also have always been very active in the community. I really think that when you are blessed, and when you are given the opportunity, that you have to pay it forward, you have to give back. That's something my parents have instilled in me."
Now, Baker-Barnes and her lawyer husband Edrick Barnes are passing on lessons about civic duty to their three children: 15-year-old daughter Selia, 11-year-old daughter Emri, and 9-year-old son Edan. According to Baker-Barnes, her children are her "greatest accomplishment."