Aishani Shrinath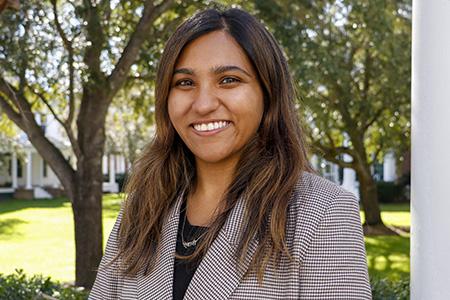 2022 Grad
Undergrad
University of South Florida
Area of Interest
Family law, trusts and estates, healthcare law, and mediation
What has been the best experience you have had at the College of Law thus far?
By far the best experience I have had at FSU Law is being able to participate in a clinic. During the fall of my 2L year, I participated in the Children's Advocacy Clinic. I was able to gain hands-on experience while making a difference in a child's life. 
What has been your most challenging experience in law school thus far?
Navigating law school during a pandemic has been difficult. However, FSU Law has a great support system, which really helped me overcome the difficulties of being in school while being in a pandemic. 
Why did you become a student ambassador?
I wanted to show potential students that if I could go to law school that they could go to law school as well! Law school and the application process are both very  intimidating, however, if you have a smiling face cheering you on it becomes so much easier. I hope to be that welcoming face that potential students can count on. 
What did you do during your 1L summer?
I worked at a family law firm in Ocala, Florida. I was able to work on different motions and pleadings while observing mediations. I was also able to put the knowledge I learned during 1L year into practice. 
What's one fun fact about yourself?
I grew up on a horse farm!