Ali Bowlby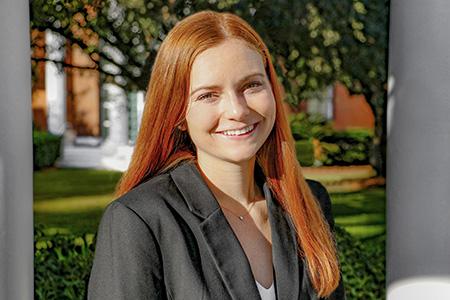 2022 Grad
Undergrad
University of Florida
Hometown
Royal Palm Beach, Florida
Area of Interest
Trusts and estates, real property, business law
What do you feel is unique about Tallahassee and/or the College of Law?
Tallahassee is a great place to live! It has big-city opportunities and a small-town community feel. Additionally, the capital location has allowed me to work part-time while in school, providing me with numerous practical experiences.
How have you interacted with our alumni network?
I have been able to network and form relationships with our alumni network through on-campus events, panel discussions, and through mentorship and work opportunities. Both my supervisor at the firm I work for now and the law clerk I worked under this summer are College of Law alumni!
What has been your most challenging experience in law school thus far?
My most challenging experience in law school thus far is learning how to balance classes, preparing for exams, and applying to jobs/internships. Although this has been a challenging experience, I have greatly improved my time management and ability to tackle stressful situations.
Which professor has been particularly helpful to you during your time at the College of Law?
Professor Eisenberg has been particularly helpful to me during my time at the College of Law. I have taken two of her classes and she has provided me with guidance and support as my advisor for my Law Review Note.
Why did you become a student ambassador?
I became a student ambassador to show prospective students what makes the College of Law an excellent place to attend law school. While I was a prospective student, student ambassadors were extremely helpful and answered all of my questions—it was this collegial atmosphere and support system that ultimately drove my decision to attend FSU College of Law myself.