Angelique Howard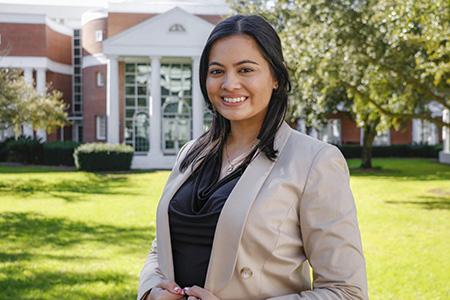 3rd Year
Undergrad
University of Florida
Hometown
Jacksonville, Florida
Area of Interest
Labor & employment law, health insurance litigation
Why did you choose the College of Law?
I chose FSU Law after attending the Summer for Undergraduates (SUG) program in 2019. Before that program, I had no idea what law school was like, how to complete a law school application, and I did not even know a lawyer. I am a first-generation American and college student, and hope to be a first-generation lawyer, so I lacked a lot of knowledge and resources. During the SUG program, I became familiar with FSU, Tallahassee, and the law school's faculty. I fell in love with the college instantly and made it my goal to come back for law school!
How have you interacted with our alumni network?
Our alumni network is PHENOMENAL! I can pick up the phone or email any FSU Law alumni to inquire about their legal path or job opportunities and have never been ignored. Most of the opportunities I've had are due to an FSU Law alum.
What has been the best experience you have had at the College of Law thus far?
The best experiences I have had at FSU Law are the Wellness Wednesday events hosted by Student Advancement. Most Wednesdays during the semester, our dean of student advancement hosts some type of wellness event (and the best part is there is always delicious food!).
Why did you become a student ambassador?
I became an ambassador to give back to the school that has given me so much. Without all the resources I gained during the SUG program, I do not think I would ever have made it to law school.
What is one fun fact about you?
I love to train animals. My cat knows around 20 tricks, ranging from sitting, playing dead, and fist bumping!