Bradley Fehrenbach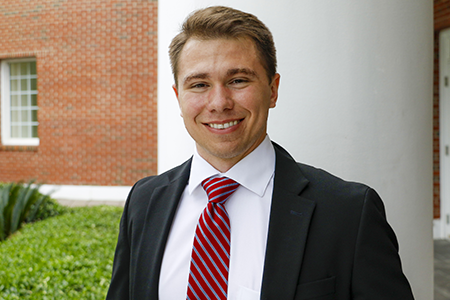 3rd Year
Undergrad
Florida State University
Hometown
Niceville, Florida
Area of Interest
Criminal law
Why did you choose the College of Law?
I chose the College of Law because of its location in the capital of Florida. Not only is Florida State University College of Law ranked highly among the nation's law schools, but its location in the capital means there is an opportunity to practice almost every area of law that one may be interested in.
What do you feel is unique about Tallahassee and/or the College of Law?
I remember when I toured the College of Law back in 2019, what stuck out for me were the number of opportunities to be had attending school here. Being right down the road from the Capitol, the Florida Supreme Court, the United States Federal Court House, and the Florida 2nd Circuit Courthouse meant there were many options to be had on finding year-round experience that other schools just could not offer.
What has been the best experience you have had at the College of Law thus far?
Serving on the Student Advisory Board has been one of the highlights of my College of Law experience. I had the opportunity to work directly with the College of Law faculty to coordinate speaking events with judges and practicing attorneys throughout the country, and by extension, hear many of their experiences and advice first-hand.
Which professor has been particularly helpful to you during your time at the College of Law?
Professor Lawrence Krieger was an amazing help during my first year at FSU Law, and at the time, he was not even one of my professors. Professor Krieger not only helped me navigate applying for summer work but provided excellent career and life advice.
What did you do during your 1L summer?
During my 1L summer, I clerked with the United States Attorney's Office. While working with the assistant United States attorneys, I was able to further develop the legal writing and researching skills I learned during my 1L year, and I gained meaningful experience observing trials, assisting in trial preparation, and drafting memorandums.