Briana Saffold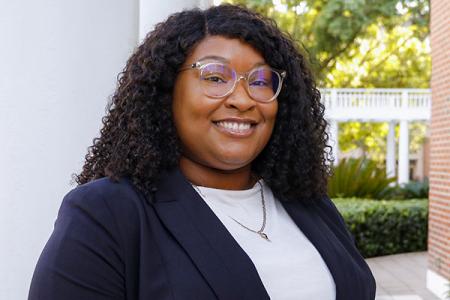 3rd Year
Undergrad
Florida State University
Area of Interest
Entertainment litigation
Why did you choose the College of Law?
I choose FSU College of Law because of the resources available and the overall environment of wanting to see each student succeed. The career services team works with each student to craft a profile for them with future employers to secure employment.
How have you interacted with our alumni network?
As the president of BLSA and a member of the FSU Trial Team I have interacted a lot with our alumni in both professional and informal settings. The alumni are our coaches for the advocacy teams and when I'm preparing for competitions not only do I work on a almost weekly basis with my coach but they also bring in other alumni to help prepare us for the competition. As the president of BLSA I work alongside our alumni in BAN to bring opportunities to current and future students.
What has been your most challenging experience in the College of Law thus far?
I would say once you're a 2L and 3L it's a new challenge of determining which courses to take and excelling in them while juggling being more active in extracurricular activities and working.
Which professor has been particularly helpful to you during your time at the College of Law?
I can name several who I have connected with and have helped me throughout this journey. Professor Linford, Professor Johnson, Professor Gibbs, Professor Spottswood, and Professor Friedman.