Christina Varela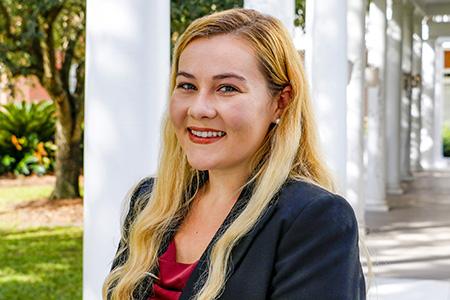 2022 Grad
Undergrad
Florida State University
Hometown
Boca Raton, Florida
Area of Interest
In-house counsel, food & beverage regulation, admiralty law, governmental relations
Why did you choose the College of Law?
I chose FSU College of Law because of the unmatched opportunities and student life. Not only is the College of Law a top 50 school with an amazing bar passage rate, but there are over 100 classes offered for students to choose from. The students here are also very happy and are supported by all of the faculty and staff. 
What has been the best experience you have had at the College of Law thus far?
The best experience I have had thus far was meeting all my new classmates. Everyone has been so kind and welcoming; FSU Law has felt like home since day one. 
Which professor has been particularly helpful to you during your time at the College of Law?
Every professor I have had so far has been wonderful. Justice Polston is very helpful and teaches his classes in an enjoyable way. His lectures are really interesting, and his personal stories make the topics more relatable. 
Why did you become a student ambassador?
I became a student ambassador to encourage prospective students to apply to FSU and to welcome the incoming students to the law school. I want both prospective and incoming students to feel supported and know that they have a friend here at the College of Law. 
Give one fun fact about yourself.
I have performed for 5,000 people at once before.