Darya Momeni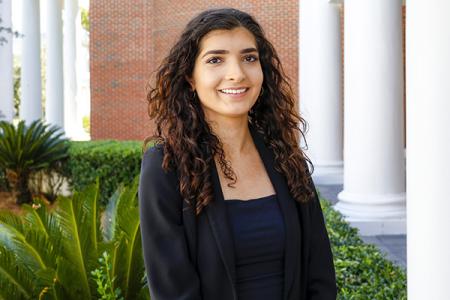 3rd Year
Undergrad
University of Central Florida
Hometown
West Palm Beach, Florida
Area of Interest
Health law, medical malpractice, insurance law, business law
What do you feel is unique about Tallahassee and/or the College of Law?
We're in the capital of Florida so with that comes a lot of opportunities for externships. It's great because we have the opportunity to do this throughout the fall and spring semester, and with the law school being so close to everything, you can just walk to work after classes.
How have you interacted with our alumni network?
I have contacted alumni who work in the fields that I am interested in and either met up for coffee with them or have had phone calls with them. This is super helpful because I have been able to learn more about their work and get tips on how to succeed in various career paths.
What has been the best experience you have had at the College of Law thus far?
My best experience has been meeting other people. I have formed some great mentorships with our alumni, and I have also found some really good friends at FSU Law. The upperclassmen are very helpful and all of the students support each other, which makes everything more enjoyable.
Which professor has been particularly helpful to you during your time at the College of Law?
Professor Kelli Williams! I had her for Contracts in the spring semester, and she was always very encouraging to us and gave the best advice. I really enjoyed her as a professor, and I learned a lot in her class, so I am now taking her Corporations class in the fall.
What did you do during your 1L summer?
I worked as a law clerk at a firm specializing in medical malpractice defense and family law. I also was a TA for our Juris Masters program's Insurance Contracts course, and I completed pro bono work at Legal Services of North Florida.