Kayla Neal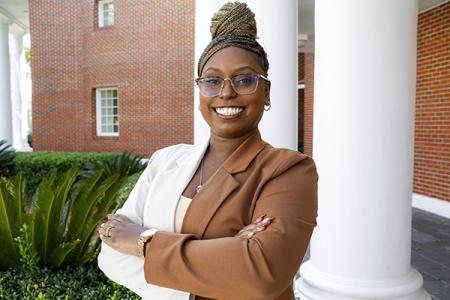 3rd Year
Undergrad
Florida State University
Hometown
Tallahassee, Florida
Area of Interest
Criminal law, civil rights advocacy, public interest law
Why did you choose the College of Law?
I chose the College of Law because it has a longstanding history of creating successful attorneys in many fields of law. It was also a school with a warm and supportive environment that I felt was necessary for my success as a law student.
What has been the best experience you have had at the College of Law thus far?
My best experience since being at the College of Law was competing on the national championship-winning 2021-2022 BLSA Mock Trial Team. We were able to travel and work together as team and ultimately bring back a huge victory for FSU Law! The support of Coach Erica White ('01) and the Black alumni at FSU Law also made the experience worthwhile and allowed me to gain lifelong mentors.
What has been your most challenging experience in law school thus far?
My most challenging experience in law school thus far has been learning to balance school while still having an identity outside of law school. I think it is important to find things that you like outside of law school so you have things to retreat to when law school becomes overwhelming.
Why did you become a student ambassador?
I wanted to become a student ambassador so I could be a point of contact for minority students interested in applying to FSU Law. African Americans make up less than 5% of the legal profession, so I think it's crucial for other minority students to see themselves reflected in the student population to encourage more minority applicants to apply to FSU Law.