Marin Donnelly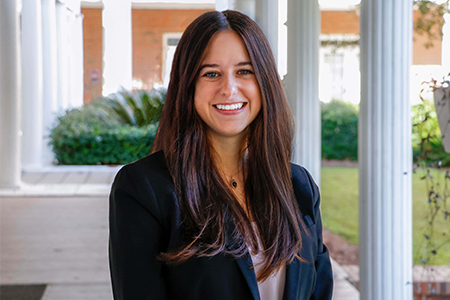 3rd Year
Undergrad
University of Florida
Area of Interest
Family law, intellectual property
Why did you choose the College of Law?
I chose the College of Law because coming to a school that promoted a healthy learning culture was very important to me. Every single person I talked to from FSU College of Law, whether it be a student or faculty member, seemed so genuinely thrilled to be a part of this amazing atmosphere and that really stuck out to me.
What do you feel is unique about Tallahassee and/or the College of Law?
For me, living in and loving the city of Tallahassee has been a pleasant surprise. Coming from Gainesville, I was worried about the adjustment, but I have thoroughly enjoyed exploring all the hidden gems of Tallahassee, whether that be going on a run at a beautiful state park or going to the local farmer's market.
What has been the best experience you have had at the College of Law thus far?
The best experience I have had at the College of Law thus far can't be narrowed down to a day or moment. But gaining so many supportive and incredible friends and classmates has allowed me to thoroughly enjoy my time here. Whether it was celebrating a game day or studying in the library for 12 hours, I have had so many wonderful moments throughout law school because of the people I've been surrounded by. 
Which professor has been particularly helpful to you during your time at the College of Law?
Professor Bayern has been particularly helpful during my time at the College of Law. He has been supportive, accessible and approachable, and he has the ability to cater to any student's learning style. He truly loves and cares for the law school and the students.