Matthew Toplak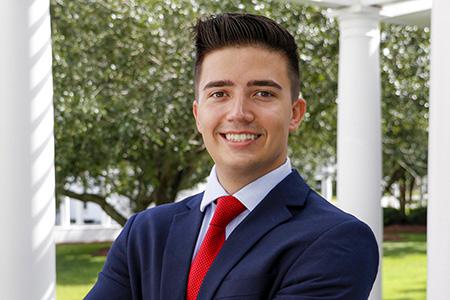 3rd Year
Undergrad
University of Florida
Hometown
Pittsburgh, Pennsylvania
Area of Interest
Government affairs, litigation, corporate law
What has been the best experience you have had at the College of Law thus far? 
My favorite law school experience thus far has been competing in Mock Trial Team competitions. Mock Trial Team has helped me become more familiar with trial procedure and has helped me become comfortable arguing cases in a courtroom.
What has been your most challenging experience in law school thus far?
My most challenging experience was adjusting to the academic rigor and a new city during the pandemic. It took some time to get acclimated, but once I found a group of friends and started to attend office hours, the transition became much easier.
Which professor has been particularly helpful to you during your time at the College of Law?
Most of my professors have been incredibly helpful, but Dean Henley and Professor Sevier have had the most substantial impact. They both have taken the time to learn my future career goals and have given me advice on how to achieve those goals.
What did you do during your 1L summer? 
I worked as a law clerk for a civil defense firm in Tampa, Florida. During my time at the firm, I worked on a myriad of cases, but I primarily worked on a complex litigation case in South Florida. This experience taught me how to be a successful litigator.
What's one fun fact about you?
I am a former collegiate cheerleader.