Rachel Jones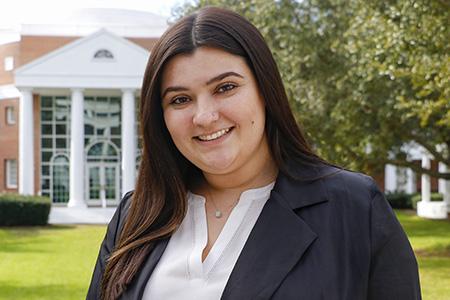 3rd Year
Undergrad
The College of New Jersey
Hometown
Cliffside Park, New Jersey
Area of Interest
Business law or tax law
What do you feel is unique about Tallahassee and/or the College of Law?
A lot of people say our school is unique because it's located in the heart of Florida's capital. While that's true, there are so many more reasons that FSU Law and Tallahassee are unique. No matter what someone's connection to FSU is—whether they're an undergraduate student, an alum, a grad student, or just a native of the city—the love for this school is the same. This passion for the university is on display at many events, especially sporting events, and being able to sit in the crowd and watch the fans get excited and show their love for the school really makes the FSU community feel more like a family than just a school.
How have you interacted with our alumni network?
Through the law school's externship program, I am currently working at the Florida Housing Finance Corporation, where my supervisor is an alum of FSU Law! I have also attended panels and events hosted by the law school, where I was able to interact with alumni and learn more about their time at FSU Law and their careers. 
What has been the best experience you have had at the College of Law thus far?
The best experience I've had at FSU Law so far has been getting involved with the Student Bar Association and joining the External Affairs Committee. This has introduced me to a variety of new people and has allowed me to help plan events that we've hosted on and off campus. 
Which professor has been particularly helpful to you during your time at the College of Law?
During my time at FSU Law, Professor Johnson has definitely been one of the professors that has made me feel the most comfortable. He's made me feel that not only is FSU a good fit for me, but that I am a good fit for FSU. I took Professor Johnson for Taxation, and he made me really enjoy the subject so much that it is currently one of the areas of law I am considering pursuing. 
What's one fun fact about yourself?
I am a dual citizen of England!