Sofia Azpurua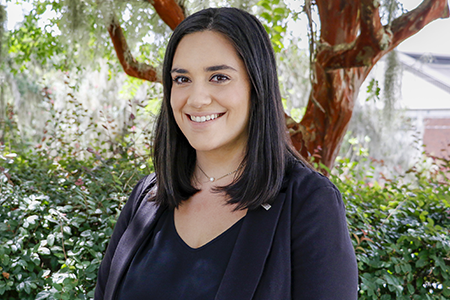 3rd Year
Undergrad
Florida State University
Area of Interest
Criminal law, immigration law
Why did you choose the College of Law?
FSU is renowned for its distinguished faculty, capital-city location, and a plethora of opportunities in all areas of the law. While all these were contributing factors, I ultimately chose FSU for its tight-knit and caring community. FSU cares about its students' physical, emotional, and mental well-being above their GPA and class rank.
What do you feel is unique about Tallahassee and/or the College of Law?
FSU Law is the perfect balance of a small college atmosphere with large university opportunities. Just because the College of Law is removed from main campus does not mean law students are precluded from its activities and resources. All FSU students enjoy free access to health and wellness facilities, libraries, men's and women's athletic events, and fine arts performances. Law students can also participate in graduate joint degrees offered in conjunction with the Colleges of Business and Social Work, among others.
How have you interacted with our alumni network?
During my first year, I had the privilege of working as a Fundathon caller with the Office of Alumni Affairs and Development. I participated in fundraising for the law school's annual fund, which contributes to scholarships, student activities, and the emergency fund. In this position, I have had the opportunity to connect with Alumni who have offered to meet with me, let me shadow them for a day, and even intern at their offices.
What has been the best experience you have had at the College of Law thus far?
During my first semester, I joined the Women's Law Symposium and signed up to be matched with a mentor. I was matched with the Honorable Ronald Flury, a criminal circuit judge in Wakulla County. Judge Flury invited me to observe his hearings and answered all my questions regarding the proceedings. It was a great opportunity to learn from one of the most prominent figures in the Second Judicial Circuit of Florida.
What's one fun fact about yourself?
I am fluent in three languages.