Stephanie Roman Caban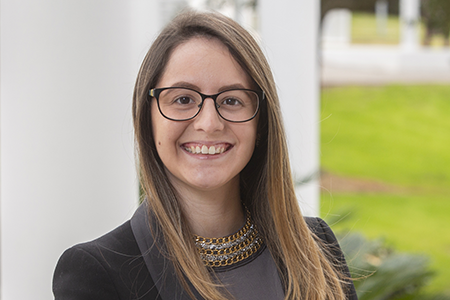 3rd Year
Undergrad
University of Central Florida
Hometown
Moca, Puerto Rico
Area of Interest
Immigration Law, Civil Rights Law, Criminal Law
Why did you choose the College of Law?
Prior to accepting my seat, I chose to attend the College of Law's Admitted Student Preview Day in order to ascertain the institutional culture. After conversing with professors and current students it became evident that Florida State Law was the perfect fit for me. While there was never any doubt that Florida State was an academically prestigious institution, what I observed was a very collegial culture amongst the students and the most welcoming academic environment I had ever experienced. 
What do you feel is unique about the College of Law?
The College of Law's location in the heart of where law is made in Florida is extremely unique compared to other schools. As a Florida State University College of Law student, I have noticed that this location is key to the numerous opportunities we have. For me this has included an opportunity to attend a hearing at the Florida Supreme Court in order to learn how to become a better appellate advocate.
What has been the best experience you have had at the College of Law thus far?
During Mental Health Week I attended a vision board party. The event, which was hosted by the Student Advancement Office, was extremely therapeutic and relaxing. I especially loved being able participate in an activity that allowed me to use my creativity to express my life goals.
What has been your most challenging experience in law school thus far?
As a first-generation law student, the most challenging experience in law school thus far has been developing effective study skills which are also time efficient. Coming into law school I knew nothing about how to prepare for a law school class/lecture, but during orientation I met current students who were willing to share study tips. Thanks to them I was able to quickly improve my own study habits. 
Why did you become a Student Ambassador?
As a first generation student, I never had much guidance on the process of applying to and choosing an academic institution of higher learning. Prior to committing to FSU Law I decided to meet with FSU Law Student Ambassadors in Orlando, FL and their advice became of the upmost value to me. I love being able to reach out to prospective students, some of who might be first generation, and provide them with the same guidance I received. As an Ambassador, I get the chance to be enthusiastic when connecting to prospective students and inform them about the many reasons why I chose FSU Law and all that it has to offer.
Email
sr18@my.fsu.edu